That's is what the participating companies said
Nadine Cömert, Solid­line: "Now is the right time to charge bat­ter­ies and pre­pare for the restart of busi­ness. Use the METAV web ses­sions to find inspi­ra­tion for your com­pa­ny and process­es. You can find what you are look­ing for on Google, but the web ses­sions offer solu­tions that you may not even had been famil­iar with."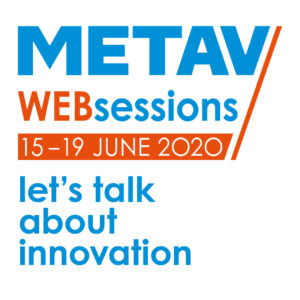 Andreas Lind­ner, Bimatec-Soraluce: "Nowa­days, the tasks of man­u­fac­tur­ing com­pa­nies are chang­ing faster than ever. Is it there­fore nec­es­sary to have a lot of expe­ri­ence to work pre­cise­ly and effi­cient­ly? What can you do when an expe­ri­enced machine oper­a­tor retires and you want to start a new project? I would like to answer these ques­tions. I'm excit­ed to get­ting to know numer­ous lis­ten­ers dig­i­tal­ly and I'm eager­ly expect­ing your questions".
Nicole Rüf­fer, Isra Vision: "Even with­out a phys­i­cal pres­ence at METAV, our progress in prod­uct devel­op­ment is impor­tant for the METAV audi­ence to ensure their com­pet­i­tive­ness; per­haps even more impor­tant than usu­al. In the cur­rent sit­u­a­tion, the METAV web ses­sions are the best way for the broad spe­cialised pub­lic to find out about our innovations".
Stef­fen Kirchen­bauer, Zelt­wanger: "We are look­ing for­ward to the expe­ri­ence of pre­sent­ing the X‑Cell WB in this way and to being able to get in direct con­tact with our cus­tomers, busi­ness part­ners, and inter­est­ed par­ties again after the long com­pul­so­ry break".
---