Cobots – Successful collaboration between man and robot
EMO Han­nover 2019 show­cas­ing robot­ic and automa­tion solu­tions for manufacturers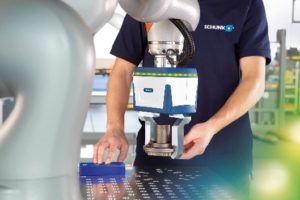 Robot­ics and automa­tion are among the key tech­nolo­gies for ensur­ing last­ing inter­na­tion­al suc­cess. Cobots inter­act direct­ly with humans and give man­u­fac­tur­ing com­pa­nies a com­pet­i­tive edge in the mar­ket. At EMO Han­nover 2019, trade vis­i­tors will find count­less automa­tion solu­tions and col­lab­o­ra­tive robots aimed at enhanc­ing productivity.
Automa­tion and dig­i­tal­i­sa­tion can be used to make man­u­fac­tur­ing process­es more effi­cient. Of par­tic­u­lar inter­est here are cobots. These col­lab­o­ra­tive indus­tri­al robots work togeth­er with humans – with­out spe­cial pro­tec­tive mea­sures such as fences or
demar­cat­ed areas. In which process­es are cobots already being used? How can col­li­sions and any result­ing risk of injury be avoid­ed? Robot­ics man­u­fac­tur­ers, sup­pli­ers of var­i­ous periph­er­al com­po­nents for automa­tion solu­tions, as well as safe­ty and sci­en­tif­ic experts will be pro­vid­ing an overview of the cur­rent sit­u­a­tion and giv­ing fore­casts for future developments.
Mak­ing work­ing life eas­i­er – and more ergonomic
"Humans are indis­pens­able for intel­li­gent pro­duc­tion," says Jochen Vet­ter, Man­ag­er of Robot Safe­ty at Pilz GmbH & Co. KG in Ost­fildern. "Robots can per­form phys­i­cal­ly demand­ing or repet­i­tive activ­i­ties, leav­ing the humans to take care of more sophis­ti­cat­ed tasks. Automa­tion can thus also pro­vide a response to the demo­graph­ic shift." Dif­fer­ent val­i­da­tion meth­ods have to be applied to human-robot col­lab­o­ra­tion (HRC). For exam­ple, it is imper­a­tive that mea­sure­ments are tak­en to deter­mine the safe­ty risks involved in any pos­si­ble col­li­sions. Pilz has devel­oped its own method for this. A sys­tem mea­sures the forces act­ing on the human body and com­pares them with the ISO/TS 15066 lim­it val­ues for col­lab­o­ra­tive robots.
"The chal­lenge is to elim­i­nate any bound­aries between the work­ing areas of humans and machines. In addi­tion to the dan­gers posed by the robot, human move­ments must also be tak­en into account," says the robot­ics safe­ty expert. "The speed of these is not always pre­dictable, nor are human reflex­es or the sud­den arrival of oth­er peo­ple. "Col­li­sions, how­ev­er, should nev­er result in injury." These must be pre­vent­ed by the use of more reli­able con­trol sys­tems and intel­li­gent, dynam­ic sen­sors built into the robot. In addi­tion, it is impor­tant to set reli­able safe­ty stan­dards based on nor­ma­tive principles.
"The inter­ac­tion will devel­op 'organ­i­cal­ly', for exam­ple in terms of lan­guage and ges­tures," Vet­ter is con­vinced. "This will take HRC to a new qual­i­ty lev­el for a dif­fer­ent cat­e­go­ry of actions. In addi­tion, HRC solu­tions will in future be linked to the fac­to­ry con­trol sys­tem via OPC UA or Indus­try 4.0 RAMI stan­dards. Poten­tial areas of appli­ca­tion lie not in large-series pro­duc­tion, but in the man­u­fac­ture of medi­um and small series. HRC makes sense in sit­u­a­tions where employ­ees can be relieved – ergonom­i­cal­ly – of phys­i­cal­ly stren­u­ous tasks, such as in main­te­nance work."
Grip­ping work­pieces of up to 8 kg using safe­ty intelligence
"The bio­me­chan­i­cal lim­its spec­i­fied by ISO/TS 15066 have so far restrict­ed the use of cobots to the han­dling of small parts, for exam­ple in assem­bly appli­ca­tions in the elec­tron­ics indus­try or in the pick & plac­ing of hous­ings, turned and milled parts, etc.," says Prof. Markus Glück, Man­ag­ing Direc­tor of Research & Devel­op­ment, Chief Inno­va­tion Offi­cer at Schunk GmbH & Co. KG, Lauffen/Neckar. "Our EGL‑C long-stroke grip­per, how­ev­er, allows a new scale of com­po­nents to be manip­u­lat­ed. For the first time it is pos­si­ble to han­dle work­pieces up to 8 kg safe­ly with form-fit grip­ping. This opens up great poten­tial, includ­ing for machine tools or in assem­bly." Thanks to inte­grat­ed safe­ty intel­li­gence (patent pend­ing), the Co-act (col­lab­o­ra­tive actu­a­tor) EGL‑C has suc­ceed­ed in achiev­ing grip­ping forces of up to 450 N in col­lab­o­ra­tive appli­ca­tions. This is around three times greater than before and rep­re­sents a world first – and is also on show at EMO Han­nover 2019. "HRC will rad­i­cal­ly change the world of work," pre­dicts Prof. Glück. "The focus is on improv­ing the ergonom­ics, cre­at­ing more flex­i­ble work process­es, increas­ing effi­cien­cy and opti­mis­ing process­es. Intel­li­gent grip­per sys­tems will per­mit high­er com­po­nent weights to be han­dled in the future. In addi­tion, 24V tech­nol­o­gy will enable them to be deployed on mobile plat­forms which will gain in impor­tance as a result. There is also great poten­tial for the use of light­weight robots to assist in assembly."
A new era in machine tool charging
"Col­lab­o­ra­tive and mobile robot sys­tems offer new pos­si­bil­i­ties for the automa­tion of machine tools. For the first time, automa­tion can break out of its rigid con­straints and achieve unprece­dent­ed lev­els of flex­i­bil­i­ty and pro­duc­tiv­i­ty thanks to inno­v­a­tive robot­ic solu­tions," reports Peter Pühringer, Divi­sion Man­ag­er at Stäubli Robot­ics in Bayreuth. In order to max­imise this flex­i­bil­i­ty, Stäubli has designed its new six-axis TX2 gen­er­a­tion for uni­ver­sal use. The robots in the new ver­sion can col­lab­o­rate direct­ly with humans. They are also avail­able as mobile and col­lab­o­ra­tive robot sys­tems. "This her­alds a new era in machine tool charg­ing," states Pühringer, con­vinced. The robots work both in stand-alone oper­a­tion and direct­ly with machine oper­a­tors. Mobile ver­sions of the robot can eas­i­ly link dif­fer­ent machine tools togeth­er and take care of the com­plete work­flow in an Indus­try 4.0 envi­ron­ment. "This unbe­liev­able flex­i­bil­i­ty allows com­plete­ly new, dig­i­tal­ly net­worked pro­duc­tion process­es to be cre­at­ed," says Pühringer. "These will sig­nif­i­cant­ly increase pro­duc­tiv­i­ty and give inno­v­a­tive enter­pris­es an unprece­dent­ed com­pet­i­tive edge. At EMO Han­nover we will be pre­sent­ing these solu­tions to a mass audience."
Sen­sors help avoid pos­si­ble collisions
"At present, cobots are fre­quent­ly used for sim­ple han­dling process­es, such as charg­ing machines. Although there is often no safe­ty fence, they are equipped with addi­tion­al safe­ty fea­tures and are not gen­er­al­ly used for direct human-robot col­lab­o­ra­tion," says Prof. Gun­ther Rein­hart, hold­er of the Chair of Indus­tri­al Man­age­ment and Assem­bly Tech­nol­o­gy at the iwb (Insti­tute for Machine Tools and Indus­tri­al Man­age­ment) at the Tech­ni­cal Uni­ver­si­ty of Munich. "Work is cur­rent­ly focussing on HRC plan­ning sup­port, on safe­ty, and also on instruct­ing the robots. Safe­ty-relat­ed inno­va­tions are aimed at detect­ing pos­si­ble col­li­sions in advance through the use of dif­fer­ent types of sen­sors – such as capac­i­tive or ultra­son­ic sen­sors – or cam­eras." Many com­pa­nies remain unsure of how to com­ply with the cur­rent stan­dards. "In par­tic­u­lar, it is impor­tant to know how to inter­pret the val­ues giv­en in ISO/TS15066," says Rein­hart. "Once the legal issues of occu­pa­tion­al safe­ty have been clar­i­fied, col­lab­o­ra­tive robots are like­ly to be used main­ly in assem­bly," says Rein­hart, look­ing to the future. "Oth­er major poten­tial appli­ca­tions include ergonom­ic assis­tance. For this, how­ev­er, there must first be more HRC robots which are capa­ble of han­dling high­er pay­loads. The Insti­tute for Machine Tools and Indus­tri­al Man­age­ment will be on hand at EMO Han­nover 2019 to pro­vide fur­ther infor­ma­tion to trade visitors."
Author: Dag Hei­deck­er, dax­TR – Tech­nik + Redak­tion, Wer­mel­skirchen (near Cologne)
((Size: around 7,400 char­ac­ters includ­ing blanks))
---