EMO

Hannover 2019 boosting investment levels with array of new technologies

Andreas Scheuer, Fed­er­al Min­is­ter of Trans­port and Dig­i­tal Infra­struc­ture, opens the world's lead­ing trade fair for metalworking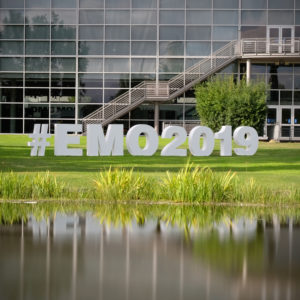 Andreas Scheuer, Fed­er­al Min­is­ter of Trans­port and Dig­i­tal Infra­struc­tre, togeth­er with Low­er Saxony's First Min­is­ter Stephan Weil, Mem­ber of the Board of Man­age­ment of Deutsche Telekom Adel Al-Saleh, Cec­i­mo Pres­i­dent Dr. Roland Feichtl and EMO Gen­er­al Com­mis­sion­er Carl Mar­tin Wel­ck­er, is open­ing the EMO Han­nover 2019, the world's lead­ing trade fair. For six days, Hanover will once again become a Mec­ca for the inter­na­tion­al pro­duc­tion tech­nol­o­gy indus­try. The theme of the event is "Smart tech­nolo­gies dri­ving tomorrow's pro­duc­tion!" and more than 2,200 exhibitors from 48 coun­tries are set to present their inno­va­tions for indus­tri­al production.
"Dig­i­tal­i­sa­tion and net­work­ing have been the sub­ject of much dis­cus­sion over the last few years, but they are now final­ly being imple­ment­ed in the pro­duc­tion process­es," says Carl Mar­tin Wel­ck­er at the open­ing press con­fer­ence in Hanover. Fac­to­ries are becom­ing smart, machines and tools are becom­ing intel­li­gent. They com­mu­ni­cate with each oth­er and are rais­ing pro­duc­tion to new qual­i­ty lev­els. Many exhibitors are show­cas­ing offer­ings for this. There are over 2,000 hits for the term "Indus­try 4.0" on the EMO web­site alone.
EMO Han­nover pre­sent­ing solu­tions to mega issues
Wel­ck­er sees major chal­lenges and oppor­tu­ni­ties aris­ing from the tran­si­tion of the auto­mo­tive indus­try – the sector's largest cus­tomer. "Elec­tri­fi­ca­tion will not hap­pen overnight. Rather, there will still be many opti­mised fos­sil fuel-pow­ered vehi­cles on the road, either with pure com­bus­tion engines or hybrid dri­ves," he said. The intro­duc­tion of new dri­ve tech­nolo­gies will undoubt­ed­ly lead to changes in indi­vid­ual man­u­fac­tur­ing process­es. How­ev­er, the EMO Gen­er­al Com­mis­sion­er strong­ly believes that high­ly dif­fer­en­ti­at­ed solu­tions must be found to meet the high­ly dis­parate needs of cars, com­mer­cial vehi­cles, motor­cy­cles, air­craft, marine engines, mobile machines and e‑bikes. If we are to achieve the ambi­tious CO2 cli­mate tar­gets, it is all the more impor­tant to redou­ble our efforts in the search for future dri­ve tech­nolo­gies, and to ensure that the best solu­tion pre­vails in each case.
Researchers at FEV Con­sult­ing have cal­cu­lat­ed that ful­ly elec­tric vehi­cles will have a 19 per cent share of the glob­al mar­ket by 2030. This relates to 118 mil­lion new reg­is­tra­tions, the over­all num­ber of which is not expect­ed to change sig­nif­i­cant­ly from the 2017 fig­ure. They also speak of a 64 per cent reduc­tion of the added val­ue in the man­u­fac­tur­ing process for pure elec­tric dri­ves, and 24 per cent high­er added val­ue for plug-in hybrids.
In this sce­nario, any loss­es in pro­duc­tion can poten­tial­ly be com­pen­sat­ed by new require­ments. Improve­ments to the effi­cien­cy of the remain­ing com­bus­tion engines and trans­mis­sion sys­tems in the form of opti­mised sur­faces, the reduc­tion of noise emis­sions, pro­tec­tion against com­po­nent wear (which is more intense in hybrids due to the switch from elec­tric to com­bus­tion mode at high speeds) and the redesign of brak­ing sys­tems (required due to the high bat­tery weights): all these fac­tors call for new or mod­i­fied pro­duc­tion process­es. In addi­tion, there is the instal­la­tion of rapid charg­ing facil­i­ties nation­wide. Com­plex new pro­duc­tion sys­tems are also need­ed for the man­u­fac­ture of key elec­tri­cal com­po­nents such as bat­ter­ies, trac­tion moorst and pow­er electronics.
Sus­tain­abil­i­ty is the basis of the machine tool industry's busi­ness model
With­out the use of intel­li­gent tech­nol­o­gy it will not ulti­mate­ly be pos­si­ble to achieve the ambi­tious cli­mate pro­tec­tion tar­gets by 2030. In any con­sid­er­a­tion of such advances, the focus is always on indus­tri­al pro­duc­tion and thus on machine tools as 'enablers'. There are demands for low­er ener­gy and mate­r­i­al con­sump­tion lev­els, high­er process effi­cien­cy cou­pled with high­er prod­uct qual­i­ty. "In fact, the tool indus­try is mak­ing a major con­tri­bu­tion, because its busi­ness mod­el is cen­tred square­ly on effi­cien­cy and waste avoid­ance," points out Welcker.
The indus­try would not enjoy such inter­na­tion­al suc­cess if it was not capa­ble of pro­cess­ing ever new mate­ri­als – such as light­weight con­struc­tion in the auto­mo­tive indus­try – and of estab­lish­ing more ener­gy-effi­cient process­es by cut­ting out entire pro­cess­ing steps, e.g. by com­bin­ing a num­ber of process­es in a sin­gle machine. Indus­try 4.0 is cur­rent­ly giv­ing rise to much talk about 'dig­i­tal twins'. These allow opti­mised machines, com­po­nents and process­es to be designed on the com­put­er before any actu­al mate­ri­als are used in pro­duc­tion. Pow­er gen­er­a­tion, whether con­ven­tion­al or regen­er­a­tive, ulti­mate­ly requires sophis­ti­cat­ed pro­duc­tion tech­nol­o­gy, too. This is cru­cial if sus­tain­able prin­ci­ples are to be adhered to in the nec­es­sary machin­ing of large parts for wind tur­bines, in com­bined heat and pow­er gen­er­a­tion, or in the laser machin­ing of solar pan­els. This is at the heart of what the machine tool indus­try stands for.
Sus­tain­abil­i­ty has always been a key fac­tor in the con­struc­tion of the machine tools them­selves. The machine tool indus­try ful­filled the EU's require­ments as part of its move towards estab­lish­ing a cir­cu­lar (closed-loop) econ­o­my long ago: ener­gy- and resource-effi­cient pro­duc­tion, long ser­vice lives, incen­tives for refur­bish­ment, updata­bil­i­ty of con­trol sys­tems, sec­ond and third lives for prod­ucts. This makes it an ide­al exam­ple of how to imple­ment recy­cling management.
Decline in Ger­man machine tool pro­duc­tion expect­ed in 2019
"EMO Han­nover 2019 is tak­ing place in less than ide­al eco­nom­ic cir­cum­stances," admits Wel­ck­er. After eight strong years for the machine tool indus­try, glob­al demand for cap­i­tal goods has been in decline since the fourth quar­ter of 2018. User demand in all regions of the world declined sig­nif­i­cant­ly in the first half of 2019. In the EMO host coun­try of Ger­many, incom­ing orders also fell by more than a fifth in the first six months. There­fore VDW (Ger­man Machine Toll Builders' Asso­ci­a­tion) revised the pro­duc­tion fore­cast for Ger­many to minus 2 per cent.
How­ev­er, a lead­ing world trade fair such as EMO Han­nover can reveal at an ear­ly stage the tech­nolo­gies which are like­ly to attract invest­ment in the future. New offer­ings aris­ing from dig­i­tal­i­sa­tion and the intro­duc­tion of arti­fi­cial intel­li­gence, new prod­ucts made pos­si­ble through the exten­sive use of gen­er­a­tive process­es etc. will open up new dimen­sions of effi­cien­cy and qual­i­ty in pro­duc­tion. Com­pa­nies should now be get­ting them­selves in shape for the com­ing years – through strate­gic realign­ment, mod­erni­sa­tion of pro­duc­tion, increased process effi­cien­cy. "There are many poten­tial approach­es. The solu­tions will crys­tallise in the com­ing days, not least here at EMO Han­nover," says the EMO Gen­er­al Commissioner.
You will find texts and images relat­ing to the EMO Han­nover 2019 on the inter­net at:
https://www.emo-hannover.de/en/press/press-releases/press-rele
www.emo-hannover.de/bilddatenbank?keyword=1565805 or 1565798
---