EMO

Hannover 2019 provides clarity in uncertain times Trade fair builds on successful previous event

EMO Han­nover 2019 closed its doors today fol­low­ing a six-day run. From 16 to 21 Sep­tem­ber, round about 117,000 pro­duc­tion spe­cial­ists from 150 coun­tries con­vened at the world's lead­ing tradeshow for the met­al­work­ing indus­try. "This EMO Han­nover 2019 built on the suc­cess of our boom year in 2017," report­ed EMO Gen­er­al Com­mis­sion­er Carl Mar­tin Wel­ck­er. He con­tin­ued: "In the con­text of sub­dued eco­nom­ic expec­ta­tions over the past sev­er­al months, the mod­er­ate decline in atten­dance has to be viewed as a suc­cess. We are par­tic­u­lar­ly delight­ed at the fur­ther increase in the per­cent­age of for­eign atten­dees." The mood in the halls was pos­i­tive, with many exhibitors pleas­ant­ly sur­prised at the high vol­ume of vis­i­tor traf­fic at their stands. "EMO Han­nover has once again proved sol­id as a rock, pro­vid­ing clar­i­ty for the fur­ther devel­op­ment of pro­duc­tion tech­nol­o­gy, even in uncer­tain times," Wel­ck­er added. Its trade­marks includ­ed a strong inter­na­tion­al char­ac­ter, a high cal­iber of vis­i­tors and exhibitors, and an amaz­ing wealth of inno­va­tions and new prod­ucts, he stressed. As the world's lead­ing met­al­work­ing fair, it was the "place to be".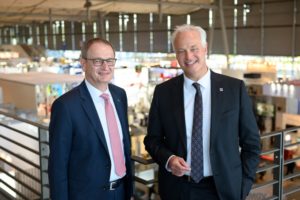 Mixed mood – invest­ment-readi­ness bodes well for post-show business
Exhibitors with a broad cus­tomer base were sat­is­fied with the run of the fair. In the words of Dr. Wolf­gang Heur­ing, CEO of the Erlan­gen-based Motion Con­trol Busi­ness Unit at Siemens: "The lev­el of vis­i­tor inter­est at our stand this year was incred­i­ble. We are delight­ed at the way things have gone." Oth­er firms with a stronger focus on the pas­sen­ger car indus­try seemed to be less upbeat about the sit­u­a­tion. "Firms are clear­ly more reluc­tant to com­mit them­selves, giv­en the gen­er­al uncer­tain­ty over where the mar­ket is head­ing," remarked Dr. Chris­t­ian Lang, CEO of Lieb­herr-Verzah­n­tech­nik in Kempten. "But our dis­cus­sions with cus­tomers at our stand have still been sub­stan­tive and very promis­ing for the future," he added. While some exhibitors spoke of a his­toric par­a­digm shift in the auto­mo­tive indus­try, which still need­ed to be mas­tered, oth­er exhibitors report­ed suc­cess­ful­ly nego­ti­at­ing busi­ness deals with automak­ers dur­ing the fair.
At the start of EMO Han­nover, there was some wor­ry about the news that many cus­tomers were cut­ting their trav­el bud­gets. Yet the per­cent­age of com­pa­ny exec­u­tives among tradeshow atten­dees was about as high as two years ago, at 58 per­cent. Around half of these came armed with cap­i­tal invest­ment plans, and for for­eign vis­i­tors, this fig­ure was even high­er, at more than 62 per­cent. 25 per­cent of atten­dees actu­al­ly placed orders dur­ing the fair or planned to do so in the near future. And a fur­ther 20 per­cent intend­ed to spend mon­ey down­stream from the fair. "We've had a lot of dis­cus­sions focus­ing on spe­cif­ic cus­tomer require­ments. Many users are care­ful­ly con­sid­er­ing which cap­i­tal expen­di­tures they need to best posi­tion them­selves for the future," said Matthias Funk, CEO of Hedelius Ver­trieb­s­ge­sellschaft in Meppen.
The main focus was on expan­sion and replace­ment invest­ments in flex­i­ble man­u­fac­tur­ing, pro­duc­tion machines, tools and automa­tion. "First we need to find out what is hap­pen­ing in the indus­try, then we will make our invest­ment deci­sions after EMO is over," says Kiyokazu Sugiya­ma of Nis­san Motor Co. Ltd., Yoko­hama, after spend­ing three days at the fair tak­ing a close look at all the dis­plays. Geb­hard Debor, man­u­fac­tur­ing man­ag­er at Linde Hydraulics in Aschaf­fen­burg, com­ment­ed: "If we find what we're look­ing for, we're ready to talk busi­ness right now."
Strong Asian pres­ence at EMO Hannover
As the flag­ship fair for its sec­tor of indus­try, EMO Han­nover has a strong inter­na­tion­al pro­file. More than half of all atten­dees came from abroad, split almost even­ly between oth­er Euro­pean coun­tries and over­seas. A 20 per­cent growth in atten­dance from over­seas in com­par­i­son with the 2017 event was par­tic­u­lar­ly impres­sive. This includ­ed a high per­cent­age of Asian guests, who account­ed for almost one third of vis­i­tors from abroad, with Chi­na, Japan, Tai­wan and India head­ing the rank­ings. "The high­ly inter­na­tion­al make­up of EMO vis­i­tors, par­tic­u­lar­ly from Asia, result­ed in a busy and extreme­ly glob­al atmos­phere at our stand," said Dr. Ste­fan Brand, CEO of Vollmer Werke in Bib­er­ach. This trend was clear­ly relat­ed to a high­er num­ber of Asian exhibitors at this year's event, who encour­aged their cus­tomers to vis­it them in Han­nover. Oth­er coun­tries with strong rep­re­sen­ta­tion at the event includ­ed Italy, Poland, Swe­den, Rus­sia and Turkey.
Dig­i­tal­iza­tion and automa­tion gath­er­ing momentum
"This year's EMO once again gen­er­at­ed fresh momen­tum for inno­va­tions," report­ed Lothar Horn, Man­ag­ing Direc­tor of Paul Horn GmbH in Tübin­gen. As an inno­va­tions plat­form for pro­duc­tion tech­nol­o­gy, EMO is expect­ed to chart the trends for the years ahead, and once again the mis­sion was suc­cess­ful. The EMO mot­to "Smart tech­nolo­gies dri­ving tomorrow's pro­duc­tion" accu­rate­ly reflect­ed the key issues fac­ing the indus­try today. "Our many dis­cus­sions with cus­tomers at EMO 2019 in Han­nover revealed that a focus on the holis­tic process chain, includ­ing dig­i­tal ser­vices, cre­ates the rel­e­vant added val­ue for cus­tomers," said Chris­t­ian Thönes, Chair­man of the Exec­u­tive Board at Biele­feld-based DMG Mori AG
. This feel­ing was shared across all exhibitor seg­ments. "The pos­i­tive vis­i­tor response to our cloud-based sim­u­la­tion tools and mon­i­tor­ing sys­tem as an Indus­try 4.0 appli­ca­tion was strik­ing," com­ment­ed Marie-Sophie Maier-Wem­ber, CEO of Haas Schleif­maschi­nen GmbH in Trossin­gen. And the buzz­words of IoT plat­forms, apps, dig­i­tal twins, arti­fi­cial intel­li­gence (AI), edge and cloud com­put­ing were omnipresent at the fair.
This all served to high­light just how much has changed since the most recent event two years ago. Par­tic­u­lar­ly in Hall 9, the domains of research and prac­tice came togeth­er. This blend of research and indus­try attract­ed large vis­i­tor num­bers from around the world. "We have made many new con­tacts, and the ideas gar­nered from talk­ing to all these peo­ple will hope­ful­ly feed into future research projects," com­ment­ed Prof. Berend Denke­na, Pres­i­dent of the Aca­d­e­m­ic Asso­ci­a­tion for Pro­duc­tion Tech­nol­o­gy (WGP) and head of the Insti­tute for Pro­duc­tion Tech­nol­o­gy and Machine Tools (IFW). "One clear con­clu­sion from all this is that dig­i­tal­iza­tion and automa­tion will chart our path into the future, you can see that right here at EMO Han­nover," he added.
This year's EMO also fea­tured the first AI appli­ca­tions in the Start-up area and at the stands of the rel­e­vant trail­blaz­ing com­pa­nies. Along with the strong inter­est in AI and machine learn­ing, vis­i­tors' appetite for future visions was reflect­ed in the accom­pa­ny­ing events and forums, where the top­ics includ­ed not only AI, but also addi­tive process­es, the indus­tri­al inter­net of things (IIoT), 5G and not least OPC UA or umati, the new stan­dard inter­face between machine tools and over­ar­ch­ing IT sys­tems. The stand­out attrac­tion con­sist­ed of the big umati show­case, which includ­ed 110 machines from 70 inter­na­tion­al firms and part­ners, demon­strat­ing for the first time that the uni­ver­sal inter­face between machines and IT sys­tems can func­tion across all prod­uct types. Accord­ing to umati project man­ag­er Dr. Alexan­der Broos, "the response to umati among our part­ners and cus­tomers has been huge. This dis­play at EMO has suc­cess­ful­ly launched us on the mar­ket. Our next com­mis­sion on return­ing home is to deliv­er the OPC UA Com­pan­ion Spec­i­fi­ca­tion at the ear­li­est pos­si­ble date."
EMO Han­nover 2019 opens win­dow to future
"Against all expec­ta­tions, we can wrap up EMO Han­nover 2019 on a pos­i­tive note. The fair is attrac­tive for the entire inter­na­tion­al pro­duc­tion tech­nol­o­gy com­mu­ni­ty and has con­firmed there is still demand for cap­i­tal invest­ment in the mar­ket­place. In spite of all the polit­i­cal tur­moil, this trade fair has revealed that indus­try is active­ly address­ing the chal­lenges of the future and is deter­mined to make its con­tri­bu­tion as a prob­lem solver," con­clud­ed EMO gen­er­al com­mis­sion­er Carl Mar­tin Welcker.
The next EMO will be staged in Milan from 4 to 9 Octo­ber 2021
Down­loads
Press­re­lease (docx)
Press­re­lease (PDF)
Aussteller- und Besuch­er­stim­men zur EMO Han­nover 2019 (PDF)
---