Manufacturers making increased use of dry machining and
MQL
EMO

Hannover 2019 helping with application decisions (part 2)

Frank­furt am Main, 03. sep­tem­ber 2019. – Should we con­tin­ue with clas­sic machin­ing and coolant lubri­cants, or do dry machin­ing and min­i­mum quan­ti­ty lubri­ca­tion (MQL) rep­re­sent viable alter­na­tives? From a tech­nol­o­gy point of view, it is impor­tant to con­sid­er mate­r­i­al prop­er­ties and machine per­for­mance, but plant costs, ener­gy and health aspects increas­ing­ly need to be includ­ed in any assess­ment of the over­all process. Lubri­ca­tion sys­tem man­u­fac­tur­ers and sci­en­tists com­ment­ed on these aspects in the first of this two-part series. Part 2 now looks at var­i­ous machin­ing tech­nolo­gies from the prac­ti­cal per­spec­tive of tool and machine man­u­fac­tur­ers: a pre­view of EMO Han­nover 2019.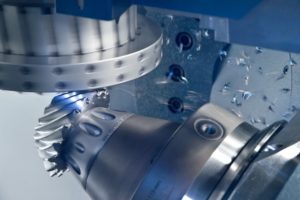 Over twen­ty years ago, some experts pre­dict­ed a tri­umphant future for dry machin­ing. In which areas have dry machin­ing and min­i­mum quan­ti­ty lubri­ca­tion become established?
Gear hob­bing now exclu­sive­ly dry
"The advan­tages of MQL over wet machin­ing lie in the low­er costs for the cool­ing lubri­cant and the elim­i­na­tion of chem­i­cal addi­tives in the lubri­cant. This results in cost advan­tages, and also few­er adverse health effects for the employ­ees," says Dr. Hart­muth Müller, Head of Tech­nol­o­gy & Inno­va­tion at Klin­gelnberg GmbH's Hück­eswa­gen pro­duc­tion site. The mechan­i­cal engi­neer­ing com­pa­ny, head­quar­tered in Zurich (Switzer­land), employs around 1,300 peo­ple world­wide and spe­cialis­es in bev­el and spur gear technology.
"The prin­ci­ple behind MQL is based on wet­ting the rake face. This is easy to achieve with inter­nal­ly cooled tools, while it is not fea­si­ble with the com­pli­cat­ed tool geome­tries of gear cut­ting tools. For this rea­son, Klin­gelnberg relies exclu­sive­ly on dry machin­ing for gear hob­bing. We only use MQL when machin­ing cast com­po­nents for use in engi­neer­ing." Tung­sten car­bide bar cut­ting tools are deployed for bev­el gear milling. For cost rea­sons, tung­sten car­bide tools are not wide­ly used for spur gear milling; dry-cut PM-HSS hobs are gen­er­al­ly used for this pur­pose. The sub­se­quent hard fin­ish­ing of gear wheels is car­ried out – when­ev­er pos­si­ble – by grind­ing, using oil as coolant lubricant.
"Dry machin­ing has def­i­nite­ly tri­umphed in gear man­u­fac­tur­ing, as pre­dict­ed," says Dr. Müller. "Thanks to devel­op­ments in cut­ting mate­ri­als and coat­ings, cut­ting speeds are up to five times high­er than they were with wet machin­ing 20 years ago. Dry machin­ing has not only led to a con­sid­er­able increase in pro­duc­tiv­i­ty, but also to clean­er pro­duc­tion." At EMO Han­nover, Klin­gelnberg will demon­strate its high­ly pro­fi­cient ranges for the gear­ing indus­try, includ­ing the devel­op­ment and man­u­fac­ture of machines for gear pro­duc­tion, pre­ci­sion mea­sur­ing cen­tres for all kinds of rota­tion­al­ly sym­met­ric objects and the man­u­fac­ture of cus­tom-made, high-pre­ci­sion gear components.
Cost-effi­cient and environment-friendly
Hart­met­all-Werkzeug­fab­rik Paul Horn GmbH from Tübin­gen is one of the lead­ing tool man­u­fac­tur­ers. "MQL has replaced con­ven­tion­al coolant lubri­cants in some machin­ing process­es," says Man­ag­ing Direc­tor Lothar Horn. "Cool­ing and lubri­cat­ing using min­i­mum quan­ti­ty lubri­ca­tion offer users a num­ber of advan­tages. This has led to MQL being used in many machin­ing oper­a­tions, par­tic­u­lar­ly in series pro­duc­tion. This type of cool­ing reduces the high costs in the main­te­nance, prepa­ra­tion and dis­pos­al of con­ven­tion­al coolant lubri­cants. In addi­tion, it elim­i­nates the ener­gy costs for the high-pres­sure pumps and feed pumps required for return­ing lubri­cants to the col­lec­tion basin. In addi­tion, the gov­ern­ment is impos­ing stricter require­ments on coolant lubri­cants with regard to haz­ardous ingre­di­ents. In spite of the advan­tages of MQL I just men­tioned, con­ven­tion­al coolant lubri­cants are indis­pens­able in pro­duc­tion facil­i­ties. Many process­es – such as drilling, machin­ing of high-tem­per­a­ture alloys, or inter­nal machin­ing with high chip removal rates – require an ade­quate sup­ply of con­ven­tion­al cool­ing lubri­cant." At EMO Han­nover 2019, the tool spe­cial­ists will be show­cas­ing their exten­sive turn­ing, milling, slot­ting and ream­ing port­fo­lios as well as their ranges of ultra-hard cut­ting mate­ri­als and spe­cial tools, etc.
Plan­ning dry machin­ing correctly
"In Grob machines, dry or MQL machin­ing is used for process­es with a geo­met­ri­cal­ly defined cut­ting edge such as drilling, milling or rough­ing," reports Jochen Nahl, CSO of Grob-Werke GmbH & Co. KG from Min­del­heim. "Typ­i­cal work­pieces are frame struc­ture or chas­sis parts, com­bus­tion engine and dri­ve train com­po­nents made of alu­mini­um or grey cast iron, and now also tur­bocharg­er hous­ings made of high­ly heat-resis­tant cast steel. Wet machin­ing is still very much part of the DNA of many com­pa­nies, yet the share of MQL machines has already increased to 12 per cent in recent years and is con­tin­u­ing to rise, espe­cial­ly for the machin­ing of frame struc­ture and chas­sis parts." The fam­i­ly-owned com­pa­ny has a total work­force of around 6,900 employ­ees world­wide and has been a pio­neer in the con­struc­tion of high­ly inno­v­a­tive pro­duc­tion and automa­tion sys­tems for more than 90 years. "The advan­tages of MQL machin­ing speak for them­selves," con­tin­ues Jochen Nahl. "Pro­duc­tion line invest­ment costs can be low­ered and the effort involved in clean­ing the work­pieces can be reduced sig­nif­i­cant­ly. In addi­tion, MQL uses around a quar­ter less ener­gy com­pared to wet machining."
Although dry machin­ing is not cur­rent­ly being deployed to the extent that was expect­ed, it is clear that indus­try is grad­u­al­ly accept­ing it. "If the ben­e­fits are to be reaped, any switch from wet to dry machin­ing should be based on an intel­li­gent strat­e­gy and imple­ment­ed with a com­pe­tent machine sup­pli­er as a part­ner," rec­om­mends CSO Nahl. "Mod­ern com­pa­nies are already ben­e­fit­ting from recent pos­i­tive devel­op­ments such as tem­per­a­ture com­pen­sa­tion, the use of high­er air pres­sure lev­els, and mod­u­lar sys­tems that reduce man­u­fac­tur­ing costs and avoid unnec­es­sary over-engi­neer­ing. The glob­al play­er, with head­quar­ters in Min­del­heim (Bavaria), will show­case its cur­rent port­fo­lio, con­duct live machin­ing demon­stra­tions and present oth­er tech­ni­cal high­lights at this year's EMO in Hanover.
Con­clu­sion and outlook
Wet machin­ing involv­ing larg­er quan­ti­ties of cool­ing lubri­cant is still used for the vast major­i­ty of machin­ing process­es. Nev­er­the­less, dry machin­ing and min­i­mum quan­ti­ty lubri­ca­tion are on the advance, espe­cial­ly in spe­cial areas such as gear hobbing.
In addi­tion to tech­no­log­i­cal aspects (such as work­piece mate­ri­als and machine per­for­mance), poten­tial cost sav­ings for ener­gy and sys­tems play an impor­tant role in select­ing the appro­pri­ate process. In addi­tion, health aspects, sus­tain­abil­i­ty and stricter legal require­ments are being accord­ed ever greater weight as fac­tors with­in the over­all assess­ment. Tech­no­log­i­cal advances and detailed knowl­edge of the cut­ting edge process­es will offer more and more pos­si­bil­i­ties in the future for safe and (in many cas­es also) high­ly pro­duc­tive dry machin­ing and MQL. At EMO Han­nover 2019, trade vis­i­tors will find in-depth infor­ma­tion, sug­ges­tions and help in mak­ing the right choice between wet and dry machin­ing and MQL for their own applications.
Author: Dag Hei­deck­er, dax­TR – Tech­nik + Redak­tion, Wermelskirchen
(Size: around 7,300 char­ac­ters includ­ing blanks)
---