New technologies kindling future business
EMO Han­nover 2019 to devote sep­a­rate forum to future technologies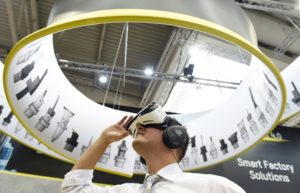 Frank­furt am Main, 10 Sep­tem­ber 2019. – The term "Indus­tri­al Inter­net of Things" (IIoT) cov­ers a whole range of new tech­nolo­gies that open up inno­v­a­tive pro­duc­tion pos­si­bil­i­ties. This will pro­vide the basis for new areas of busi­ness. The impor­tance of IIoT should not be under­es­ti­mat­ed and it will be accord­ed the atten­tion it deserves at EMO Han­nover 2019 in the Forum New Tech­nolo­gies – Future Oppor­tu­ni­ties. Over the five days, lead­ing indus­tri­al experts and sci­en­tists will be giv­ing talks in Hall 9 on future tech­nolo­gies which have the poten­tial to devel­op into impor­tant pil­lars of met­al­work­ing. Par­tic­i­pa­tion is free of charge, the talks will be giv­en in English.
The Indus­tri­al Inter­net of Things embraces con­cepts such as addi­tive pro­ce­dures, machine learn­ing, arti­fi­cial intel­li­gence, plat­form eco­nom­ics, umati, OPC UA and 5G. But what do these buzz­words actu­al­ly mean? And how can these tech­nolo­gies boost val­ue cre­ation in the man­u­fac­tur­ing sector?
Prac­ti­cal net­work­ing at the machine and busi­ness levels
Find­ing a secure way of exchang­ing stan­dard­ised data and infor­ma­tion at all lev­els in the net­worked world, from sen­sors up to IT com­pa­nies, is the best way of reduc­ing engi­neer­ing costs and increas­ing secu­ri­ty. With regard to data exchange, the mar­ket has opt­ed for the plat­form-inde­pen­dent OPC UA pro­to­col as the stan­dard frame­work for indus­tri­al inter­op­er­abil­i­ty. Why is that? And how can exist­ing machines with­out OPC UA that have already been deliv­ered be con­nect­ed? The forum will pro­vide an overview of the cur­rent sit­u­a­tion and a roadmap of OPC UA on Tues­day after­noon. In addi­tion, expe­ri­enced entre­pre­neurs will show how cyber secu­ri­ty and assis­tance sys­tems can pave the way for suc­cess­ful, secure and user-friend­ly IIoT applications.
All experts agree that a key ele­ment of future busi­ness mod­els will be the cre­ation of val­ue through dig­i­tal ser­vices. They will enable machine tool builders to meet their cus­tomers' future require­ments and to hold their own among the inter­na­tion­al com­pe­ti­tion. A term that has emerged in this respect is the "plat­form econ­o­my". Entre­pre­neurs who have already gained expe­ri­ence in this field will report on scal­able dig­i­tal plat­forms and on how man­u­fac­tur­ing com­pa­nies can ben­e­fit from sub­scrip­tion-based busi­ness models.
umati and 5G-based connectivity
Con­nec­tiv­i­ty must be pos­si­ble not only from machine to machine, but along the entire val­ue chain if the immense poten­tial for indus­tri­al pro­duc­tion is to be lever­aged. Experts from inter­na­tion­al com­pa­nies will dis­cuss how Indus­try 4.0 and IIoT can be made real­i­ty through­out Ger­man indus­try. Top­ics will include data per­for­mance and reli­able radio com­mu­ni­ca­tion. In addi­tion, the "5G. Make man­u­fac­tur­ing smart" forum will be pro­vid­ing infor­ma­tion specif­i­cal­ly about 5G in the indus­tri­al envi­ron­ment. The "5G Alliance for Con­nect­ed Indus­tries and Automa­tion", or 5G-ACIA for short, will be coor­di­nat­ing the forum. It is the main glob­al 5G design forum for indus­tri­al applications.
Final­ly, the uni­ver­sal machine tool inter­face umati is set to bring about major advances in Indus­try 4.0. What began as an ini­tia­tive of the VDW (Ver­band Deutsch­er Werkzeug­maschi­nen­fab­riken — Ger­man Machine Tool Builders' Association)
has devel­oped into a glob­al­ly sup­port­ed move­ment to ensure sim­ple yet secure links between machine tools and IT sys­tems in the pro­duc­tion envi­ron­ment. At the forum on Fri­day, the audi­ence will be able to dis­cov­er the lat­est tech­ni­cal devel­op­ments, find out what prospects the com­pa­nies which have been involved in the ini­tia­tive from the begin­ning see in umati, and learn how oth­er com­pa­nies can participate.
In addi­tion to the talks on con­nec­tiv­i­ty, EMO Han­nover will also fea­ture the first 5G show­case – by Eric­s­son (Stock­holm), Maki­no Europe (Ham­burg), and the Fraun­hofer Insti­tute for Pro­duc­tion Tech­nol­o­gy (IPT). Deploy­ing 5G tech­nol­o­gy, a robot will take tools from a shelf, mea­sure them and load them into a machine using a spe­cial­ly devel­oped dri­ver­less trans­port sys­tem. The data is trans­ferred extreme­ly quick­ly between the cen­tral con­trol unit and the robot via 5G. Vis­i­tors to the show­case can find out how to inte­grate 5G process­es into their pro­duc­tion sys­tems at the Maki­no stand (B36) in Hall 12.
Arti­fi­cial Intel­li­gence and 3D Printing
The talks on Tues­day morn­ing will show that arti­fi­cial intel­li­gence (AI), and machine learn­ing (ML) in par­tic­u­lar, are mov­ing now towards prac­ti­cal imple­men­ta­tion. The main ques­tion being addressed is how com­pa­nies can sup­ple­ment auto­mat­ed pro­duc­tion with ML or AI meth­ods. The speak­ers will also present con­crete exam­ples, such as voice-con­trolled AI-based machine oper­at­ing sys­tems or the pre­ven­tion of chatter.
A prac­ti­cal ML appli­ca­tion for plan­ning, sched­ul­ing and oper­a­tions man­age­ment will also be presented.
Nat­u­ral­ly there will also be talks on addi­tive process­es which have already made their way into met­al pro­cess­ing, espe­cial­ly in the aero­space and med­ical tech­nol­o­gy sec­tors. Fur­ther fields of appli­ca­tion will also open up due to the rapid tech­ni­cal advances and the research into ever new mate­ri­als for indus­tri­al 3D print­ing. But how can com­pa­nies start to inte­grate addi­tive process­es into their pro­duc­tion today? What spe­cial fea­tures have to be con­sid­ered? All will be revealed to the audi­ence on Wednes­day and Thursday.
The open forum with its half-day top­ic blocks will be held on Stand I24 in Hall 9.
Author: Ger­da Kneifel, VDW
Size: around 5,513 char­ac­ters includ­ing blanks
---