Dry machining and
MQL

conquering more and more applications
Wet or dry –

EMO

Hannover 2019 showcasing wide range of technologies (Part 1)
Frank­furt am Main, 03. sep­tem­ber 2019. – Pro­duc­tion man­agers in man­u­fac­tur­ing often have to ask them­selves: should we con­tin­ue with con­ven­tion­al machin­ing and coolant lubri­cants, or do dry machin­ing or min­i­mum quan­ti­ty lubri­ca­tion (MQL) rep­re­sent viable alter­na­tives? Sev­er­al fac­tors influ­ence this deci­sion. In Part 1 of this two-part series of tech­ni­cal arti­cles being pub­lished in the run-up to EMO Han­nover 2019, lubri­ca­tion sys­tem experts and sci­en­tists give their assess­ment. Tool and machine man­u­fac­tur­ers shed light on the sub­ject in the sec­ond part.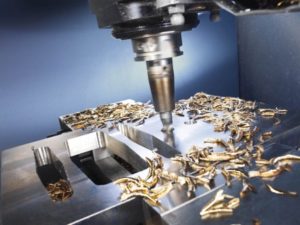 Very high tem­per­a­tures are gen­er­at­ed in the cut­ting zone dur­ing machin­ing. Coolant lubri­cants reduce fric­tion, pro­vide cool­ing (but may also cause destruc­tive ther­mal shocks) and sup­port the removal of chips. Back at the turn of the mil­len­ni­um, some experts pre­dict­ed dry machin­ing would make a break­through as a sub­sti­tut­ing process. It is now time to assess the cur­rent posi­tion. In which areas have this process, or min­i­mum quan­ti­ty lubri­ca­tion (as qua­si-dry machin­ing) become estab­lished, and to what extent? In this two-part tech­ni­cal report, lubri­ca­tion sys­tem man­u­fac­tur­ers, machine and tool sup­pli­ers and sci­en­tists pro­vide a com­pre­hen­sive assess­ment from var­i­ous per­spec­tives and iden­ti­fy the advan­tages and dis­ad­van­tages of the respec­tive technologies.
Par­tic­u­lar rel­e­vance for series machining
"The main area of appli­ca­tion for min­i­mum quan­ti­ty lubri­ca­tion lies in the machin­ing of pro­to­type parts as found in large-scale series pro­duc­tion in the auto­mo­tive indus­try — espe­cial­ly of pow­er­trains. The parts range from the cylin­der head and engine block to the crank­shaft or camshaft, con­nect­ing rod, gear­box and wheel car­ri­er, etc.," says Jür­gen Kep­pler in Tech­ni­cal Sales at bielo­matik Leuze GmbH + Co. KG in Neuf­fen. The Baden-Würt­tem­berg-based engi­neer­ing com­pa­ny is a recog­nised spe­cial­ist in the devel­op­ment and man­u­fac­ture of high-qual­i­ty MQL sys­tems. "Fur­ther indus­tri­al appli­ca­tions include the machin­ing of cubic com­po­nents and mechan­i­cal engi­neer­ing cast­ings such as fit­tings, pump hous­ings or valves. It is a great advan­tage in the avi­a­tion indus­try, too, if com­plex com­po­nents are not flood­ed with emulsion."
The expert esti­mates that MQL is used for machin­ing about 15 per cent of new large-series com­po­nents, ris­ing to 70 per cent for deep hole drilling in crank­shafts, for exam­ple. "MQL will con­tin­ue to grow in the oth­er appli­ca­tion areas I just men­tioned," says Kep­pler, con­vinced. "The upswing in MQL machin­ing pre­dict­ed some 20 years ago has main­ly occurred in the auto­mo­tive sec­tor. Here, the advan­tages of MQL could be ful­ly exploit­ed in the machin­ing of cast and forged parts. The high quan­ti­ties involved also allowed the relat­ed R&D work to be car­ried out. New appli­ca­tion areas will also arise from the forth­com­ing changes in e‑mobility and addi­tive man­u­fac­tur­ing. The great advan­tage of MQL lies in the cost sav­ings to be made in resources such as oil, water and ener­gy." Fur­ther advan­tages are dry work­pieces, no car­ry-over of emul­sion and con­t­a­m­i­na­tion in the pro­duc­tion bays, and the pre­ven­tion of asso­ci­at­ed health risks. "The con­stant fur­ther devel­op­ment of mate­ri­als and appli­ca­tions is plac­ing new demands on machin­ing process­es and thus on MQL sys­tems. This will cer­tain­ly result in inter­est­ing solu­tions," says Keppler.
What do the sci­en­tists say?
"Thanks to mod­ern cut­ting mate­ri­als, dry machin­ing has been intro­duced in almost all areas of machin­ing pro­duc­tion. Increas­ing cost pres­sure, but also ener­gy con­sump­tion and eco­log­i­cal aspects are lead­ing to a renais­sance of these tech­nolo­gies," says Dr. Ivan Iovkov Head of Cut­ting Tech­nol­o­gy at the Insti­tute of Machin­ing Tech­nol­o­gy ISF of the Tech­ni­cal Uni­ver­si­ty of Dort­mund. "Dry machin­ing is not only used in con­ven­tion­al milling or turn­ing. There are also efforts to min­imise or com­plete­ly avoid the use of coolant lubri­cants in com­plex process­es such as deep drilling and gear hobbing.
How­ev­er, the cut­ting process­es and the tech­nol­o­gy still need to be adapt­ed in cer­tain ways." Dry machin­ing tends to be more com­mon in big com­pa­nies which process larg­er quan­ti­ties than in small­er com­pa­nies which spe­cialise in vary­ing types of high-pre­ci­sion and com­plex components.
"I think there will be both dry and wet machin­ing in the future," he pre­dicts. "We need to take a holis­tic view of pro­duc­tion when decid­ing whether dry machin­ing makes sense or whether it will involve dis­pro­por­tion­ate­ly high process adap­ta­tion costs. The con­tin­u­ous fur­ther devel­op­ment of MQL device tech­nol­o­gy and coat­ings, the increas­ing accu­ra­cy of the machine park, but also dig­i­tal­i­sa­tion – for exam­ple through in-process sen­sor mon­i­tor­ing of rel­e­vant vari­ables – will make it pos­si­ble in the future to car­ry out more and more dry or MQL machin­ing under robust prac­ti­cal conditions."
Sum­ma­ry
It is too soon to speak of con­ven­tion­al machin­ing process­es being com­pre­hen­sive­ly replaced by dry machin­ing or min­i­mum quan­ti­ty lubri­ca­tion, as wet machin­ing (involv­ing larg­er quan­ti­ties of coolant lubri­cant) still accounts for an esti­mat­ed 85 per cent of machin­ing. Nev­er­the­less, dry process­es are con­quer­ing more and more areas, both in the gen­er­al machin­ing sec­tor and above all in spe­cial areas. In the sec­ond part of the arti­cle, tool and machine man­u­fac­tur­ers take a prac­ti­cal view of the dif­fer­ent pro­duc­tion tech­nolo­gies and rec­om­mend adopt­ing a holis­tic approach. Trade vis­i­tors to EMO Han­nover 2019 will find exten­sive infor­ma­tion and sup­port which can help them find the right tech­nol­o­gy for their own indi­vid­ual applications.
Author: Dag Hei­deck­er, dax­TR – Tech­nik + Redak­tion, Wermelskirchen
(Size: around 5,700 char­ac­ters includ­ing blanks)
---