METAVs favourite: stand cookies!
An event­ful year is draw­ing to a close. The days are get­ting short­er, the nights cold­er and con­tem­pla­tion is com­ing. But Christ­mas time is also time for cook­ies. That's why we went to the bak­ery and baked our favourite cook­ies: Stand cook­ies! You may have seen them on social media…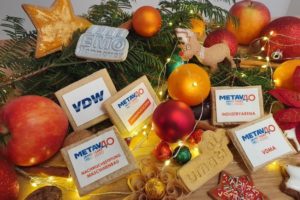 With com­bined forces from the depart­ments press & pub­lic, fair, research and tech­nol­o­gy and some more friends, we met in the morn­ing of the 1st Advent to knead dough, to prick cook­ies and to dec­o­rate. In Decem­ber 2018 we've baked "only" cook­ies for the EMO Han­nover, but this year there should be a much greater vari­ety: in addi­tion to the proven motif, round about 100 umati del­i­ca­cies and a good 350 bis­cuits with exhibitor names from METAV 2020 were to be cre­at­ed in order to be send each exhibitor a social media-com­pat­i­ble pho­to of his or her stand cook­ie. In order to push the kitchen bat­tle to the top, fur­ther 50 VDW cook­ies and 50 blank stand cook­ies were planned.
Because a sur­prise only works if it remains a sur­prise for as long as pos­si­ble, max­i­mum secre­cy was called for in advance. After work, exhibitor lists were drawn up in the emp­ty office, motifs were cre­at­ed with the help of a secret part­ner and around 450 print­ed wafers were pro­duced in addi­tion to a umati bis­cuit shape. For dec­o­ra­tion, fir branch­es, fruits, nuts and a string of lights helped us to cre­ate the per­fect christ­mas feel­ing and cre­at­ed the social-media pic­tures very artfully.
With nine kilo­grams of dough, we'we startet the work: roll out the dough, cut out the cook­ies and bake them piece by piece. Dec­o­rate with wafers, inte­grate into the fes­tive set­ting, take pho­tos and go back to the begin­ning… The divi­sion of labour worked per­fect­ly, although the wafers some­times proved to be so affec­tion­ate that spon­ta­neous emer­gency oper­a­tions with a lot of patience, sen­si­tiv­i­ty and cre­ativ­i­ty became nec­es­sary. Of course, a small Christ­mas mir­a­cle could not be miss­ing: some Opladen had been pro­duced in wise fore­sight in mul­ti­ple copies, so that we did not have to devi­ate from our goal of a com­plete cov­er­age of the METAV exhibitors reg­is­tered so far.
Just in time for Christ­mas, the exhibitors at METAV 2020 will now receive a Christ­mas greet­ing: a pho­to of their own stand space with which cus­tomers, employ­ees and friends can get in the mood for the con­tem­pla­tive days and METAV 2020 on the respec­tive social media plat­forms. As at EMO Han­nover, our team will ensure that all posts are linked to the METAV accounts and shared.
By the way: With bis­cuits it will go on at the METAV. Because on Thurs­day evening, 12 March 2020, the "sin­gende Nussecke" Guil­do Horn will rock the METAV net­work evening! Tick­ets are lim­it­ed and can only be pur­chased by exhibitors. Invite your cus­tomers to the trade fair par­ty of the year and cel­e­brate 40 years of METAV with us!
The exhibitors post­ed their pho­to on Face­book, Twit­ter or LinkedIn with the Hash­tag #METAV2020 and linked the accounts of METAV Düsseldorf:
LinkedIn: @METAV Düsseldorf
Face­book: @METAV Düsseldorf
Twit­ter: @METAVonline
In this way they got their cus­tomers, sup­pli­ers, employ­ees and friends in the right mood for the Christ­mas sea­son and the upcom­ing METAV and give us the oppor­tu­ni­ty to link and share their mail and draw the atten­tion of our fol­low­ers to their companies.
We wish you all the best for the fes­tive sea­son and would be delight­ed to cel­e­brate 40 years of METAV with you at our net­work par­ty on Thurs­day evening, 12 March 2020! The tick­ets are lim­it­ed and can only be pur­chased by exhibitors from mid-Jan­u­ary 2020 in the OOS. Invite your cus­tomers to the trade fair par­ty of the year and cel­e­brate our anniver­sary with us.
(The bak­ing team: Vibeke Hoff­mann, Götz Görisch, Susan­na Her­bert, Karen Schütz, Oliv­er Schnei­der, Dr. Ste­fan Schwa­neck. Pic­tures: Oliv­er Schnei­der, Dr. Ste­fan Schwa­neck. Text: Dr. Ste­fan Schwaneck)
Pic­tures: Oliv­er Schnei­der, Dr. Ste­fan Schwaneck
---