EMO

Hannover 2019: The world's premier trade fair for smartphones

Since mid August is it avail­able: the brand new app for EMO Han­nover 2019!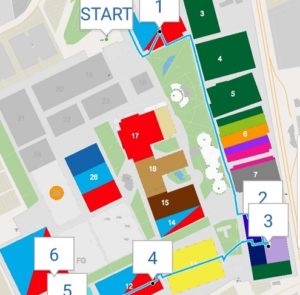 On the one hand, the app pro­vides a quick overview of the trade fair high­lights. From IoT in pro­duc­tion and umati through the indus­try 4.0 and Start-up Area to the Addi­tive Man­u­fac­tur­ing Cir­cle and Job Board, you will find brief expla­na­tions of the respec­tive offers. Overviews of speak­ers and cur­rent events at the respec­tive booths round off the overview.
On the oth­er hand, the app proves to be a faith­ful helper in trade fair plan­ning. You can use the prod­uct and exhibitor direc­to­ry to put togeth­er your tour of the fair and have the short­est pos­si­ble walk sug­gest­ed, includ­ing the time required. The hall plan with indoor nav­i­ga­tion shows you not only your exact loca­tion, but also the near­est entrances and exits as well as restau­rants and restrooms. After your login to the EMO Han­nover web­site, your watch list and your indi­vid­u­al­ly cre­at­ed walk­ing plans will auto­mat­i­cal­ly be syn­chro­nized with the app.
The app also pro­vides you with valu­able assis­tance in the con­text of suc­cess con­trol: check the box­es for vis­it­ed exhibitor stands, pre­sen­ta­tions and event areas and you will receive an eval­u­a­tion of how many of your planned pro­gramme items you have already been able to see. In this way, you can not only keep an eye on your desired pro­gramme at all times, but also see how much time remains for unplanned discoveries.
---