Industry 4.0 components changing machine tools and their environment
Innovation Forum Düsseldorf exploring theoretical and practical aspects of modern metalworking at
METAV

2020

Frank­furt am Main, 16 Jan­u­ary 2020. Sup­port­ed by the VDW (Ger­man Machine Tool Builders' Asso­ci­a­tion), the first "mav Inno­va­tion Forum Düs­sel­dorf" will take place on 12 March 2020 as part of METAV 2020. The Forum, to be held in the Düs­sel­dorf Con­gress Cen­ter, is based on the Böblin­gen event, which has enjoyed great suc­cess over many years. It is aimed not only at machine man­u­fac­tur­ers and tool spe­cial­ists but also at automa­tion experts and users in the field of addi­tive manufacturing.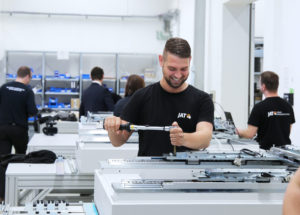 The Forum makes use of syn­er­gies and offers a ded­i­cat­ed dis­cus­sion plat­form. Its aims are to build a bridge between the the­o­ret­i­cal (forum) and the prac­ti­cal (trade fair) aspects and to opti­mise the broad-broad mar­ket suc­cess of inno­va­tions. Par­tic­i­pants are already offer­ing ini­tial insights here.
Inter­net of Things boost­ing innovation
"Man­u­fac­tur­ing Exe­cu­tion Sys­tems have many prob­lems to con­tend with. In the age of Indus­try 4.0, they must now evolve into Man­u­fac­tur­ing Oper­a­tions Man­age­ment solu­tions – each MES must be extend­ed to make it Inter­net of Things-com­pat­i­ble," says Johann Hof­mann of Maschi­nen­fab­rik Rein­hausen, based in Regens­burg, Ger­many. This also involves mov­ing from "exe­cu­tion" to "pro­duc­tion opti­mi­sa­tion through reg­u­la­tion". Man­u­fac­tur­ing Oper­a­tions Man­age­ment (MOM) focus­es on the dig­i­tal­i­sa­tion of process­es and infor­ma­tion to increase both effi­cien­cy and transparency.
The fol­low­ing find­ings from MES/MOM work­ing groups will be pre­sent­ed at METAV 2020. All man­u­fac­tur­ers of net­work­able prod­ucts (assets) agree on
a sin­gle stan­dard­ised man­age­ment shell for each asset, which is deliv­ered along with the asset
a uni­form lan­guage such as

OPC

UA

(Open Plat­form Com­mu­ni­ca­tions Uni­fied Archi­tec­ture) or umati.
This is the basis on which uni­form OPC UA para­me­ter sets can be cre­at­ed that meet spe­cif­ic require­ments. The result is Indus­try 4.0 com­po­nents (assets + man­age­ment shell) which MOM com­pa­nies can use to estab­lish "Plug and Pro­duce" sys­tems. A sim­ple exam­ple is the "plug and play" (now inde­pen­dent) print­er instal­la­tion which is now wide­spread in the con­sumer sec­tor. "I expect to see the same thing in machine tools in the medi­um term," says Indus­try 4.0 expert Hof­mann. "And hope­ful­ly the METAV 2020 will pro­vide a first glimpse of these. If all man­u­fac­tur­ers of assets, espe­cial­ly machine tool sup­pli­ers, suc­ceed in adopt­ing this, we can expect to see a surge of inno­va­tion in the soft­ware indus­try. Just as in our own sec­tor." He will be pre­sent­ing his MOM sys­tem for dig­i­tal high-per­for­mance pro­duc­tion, which has already inte­grat­ed the first man­age­ment shells.
Sup­port­ing cus­tomers with com­plete new solutions
Con­sumer elec­tron­ics are becom­ing ever small­er and more pow­er­ful. This is giv­ing rise to con­stant­ly increas­ing demands on the mecha­tron­ic sys­tems in the pro­duc­tion machines. The aim here is to improve the lev­el of pre­ci­sion and the dynam­ics. At the same time, there is grow­ing price pres­sure from the inter­na­tion­al com­pe­ti­tion. "In response we are offer­ing our cus­tomers a range of new solu­tions," says Man­fred Win­ter of JAT — Jenaer Antrieb­stech­nik GmbH. A com­pre­hen­sive con­sul­ta­tion is first giv­en to the sys­tems house cus­tomers in order to define a com­plete solu­tion that fits their pre­cise needs – from mecha­tron­ics to ser­vo ampli­fiers. "A new series of rotary tables, which we will also be pre­sent­ing at the Inno­va­tion Forum Düs­sel­dorf dur­ing METAV 2020, is aimed pre­cise­ly at this," con­tin­ues Win­ter. The inno­v­a­tive con­struc­tion is based on a flat struc­ture which is capa­ble of deliv­er­ing a high lev­el of torque. The small instal­la­tion space neces­si­tates con­sid­er­ably sim­pli­fied inte­gra­tion of the rotary tables into the appli­ca­tion, while the dynam­ic range is also increased. At the same time, new mea­sur­ing sys­tems offer high res­o­lu­tions of up to more than 500,000 incre­ments per rev­o­lu­tion to enable high-pre­ci­sion posi­tion­ing at all times. JAT itself also sup­plies the ser­vo ampli­fiers – as well as the soft­ware which ensures faster set­up and error pre­ven­tion dur­ing oper­a­tion. Dig­i­tal trans­paren­cy is pro­vid­ed by anoth­er soft­ware mod­ule called "Trans­par­ent machine". Load, stress and ener­gy bal­ance data can be col­lect­ed at the ampli­fi­er lev­el with­out the need for exter­nal sen­sors. This gives the machine own­er a sim­ple tool for retriev­ing machine data via the field­bus with­out the need for addi­tion­al pro­gram­ming, and for accu­rate­ly assess­ing the con­di­tion of his plant. This helps ensure long-term supe­ri­or per­for­mance of the machine.
Link­ing machines with mobile robot system
"We have con­sis­tent­ly expand­ed our series of robots for machine load­ing," reports Peter Pühringer, Divi­sion Man­ag­er at Stäubli Robot­ics Bayreuth. "The unique design of our six-axis robots means that they are ide­al­ly suit­ed to meet­ing the chal­lenges of met­al­work­ing. Their advan­tages, includ­ing their enclosed con­struc­tion, inter­nal cabling, con­nec­tions beneath the robot foot, high pro­tec­tion class etc., now also apply to our new four-axis robot series. These are our first hor­i­zon­tal joint­ed-arm "Scara" robots which are designed to take care of even the most demand­ing machine automa­tion tasks." The lat­est Scaras are also avail­able in a splash-proof Humid Envi­ron­ment (HE) ver­sion – an advan­tage if the robots come into con­tact with cool­ing lubri­cants, for example.
Stäubli's mobile robot sys­tem is now ready for series pro­duc­tion – prov­ing that the future of machine automa­tion is now already real­i­ty. It can dri­ve and nav­i­gate autonomous­ly, and is fit­ted with three inte­grat­ed laser scan­ners which pro­vide con­stant mon­i­tor­ing of its sur­round­ings. Equipped with a six-axis robot, this inno­va­tion rep­re­sents a poten­tial­ly rev­o­lu­tion­ary solu­tion for machine load­ing and link­ing. The mobile robot is able to pick up tools from the mag­a­zine, car­ry them to the machine, and man­age the load­ing and unload­ing of machine tools – which it can also link togeth­er if required. The entire pro­duc­tion process can be net­worked using mul­ti­ple mobile robots. Stäubli Robot­ics will be on hand at the Düs­sel­dorf 2020 Inno­va­tion Forum to pro­vide fur­ther infor­ma­tion on this topic.
Three ques­tions for scientists
Par­al­lel talk ses­sions will be held on var­i­ous top­ics at the Inno­va­tion Forum. These will cov­er every­thing from tools, machine tools, robot­ics, automa­tion and soft­ware through to machine ele­ments and addi­tive man­u­fac­tur­ing. Keynote speak­er Prof. Dirk Bier­mann, Head of the Insti­tute of Machin­ing Tech­nol­o­gy (ISF) at the TU Dort­mund Uni­ver­si­ty and mem­ber of the WGP (Ger­man Aca­d­e­m­ic Asso­ci­a­tion for Pro­duc­tion Tech­nol­o­gy), will open the event.
Pro­fes­sor Bier­mann, what do you expect the high­lights to be at METAV 2020?
Vis­i­tors to the met­al­work­ing trade fair in Düs­sel­dorf will be treat­ed not only to the lat­est inno­va­tions in machine tools, but also increas­ing num­bers of new devel­op­ments for the entire process chain and for pro­duc­tion organ­i­sa­tion, as well as new dig­i­tal­i­sa­tion solu­tions. The net­work­ing of peo­ple, machines and com­pa­nies is essen­tial if we are to achieve over­all increas­es in pro­duc­tiv­i­ty and sus­tain­abil­i­ty. METAV 2020 will show­case the lat­est solu­tions to the spe­cif­ic chal­lenges of effi­cient con­nec­tiv­i­ty and data security.
What inno­va­tions is TU Dort­mund Uni­ver­si­ty cur­rent­ly work­ing on?
The sharp rise in the dynam­ics and inten­si­ty of envi­ron­ment changes is increas­ing­ly forc­ing com­pa­nies to make rapid and effi­cient adap­ta­tions to their pro­duc­tion and fac­to­ry sys­tems. Deci­sive com­pet­i­tive fac­tors here include the reac­tion time and the effi­cien­cy of the adap­ta­tion mea­sures. Which is why we at TU Dort­mund Uni­ver­si­ty are offer­ing post­grad­u­ate sem­i­nar 2193: Adap­ta­tion intel­li­gence of fac­to­ries in dynam­ic and com­plex envi­ron­ments. Fund­ed by the Ger­man Research Foun­da­tion, this is a coor­di­nat­ed doc­tor­al pro­gramme aimed sup­port­ing young sci­en­tists in the field of inter­dis­ci­pli­nary fac­to­ry adap­ta­tion planning.
How do you rate future developments?
It's very dif­fi­cult to pre­dict the future right now, as key sec­tors such as the auto­mo­tive indus­try are under­go­ing unprece­dent­ed change and the glob­al polit­i­cal sit­u­a­tion is also hard to assess. I very much hope that we will be able to con­tin­ue to car­ry out tech­nol­o­gy-inde­pen­dent research and devel­op­ment in the future, espe­cial­ly for the impor­tant mobil­i­ty sec­tor. In addi­tion, increas­ing dig­i­tal­i­sa­tion and the judi­cious use of arti­fi­cial intel­li­gence meth­ods hold great poten­tial for future-ori­ent­ed inno­va­tions across dif­fer­ent industries.
Cre­at­ed by daxTR
(con­tin­u­ous text: approx. 8580 char­ac­ters and spaces)
---