Your Ticket to
EMO

Hannover 2019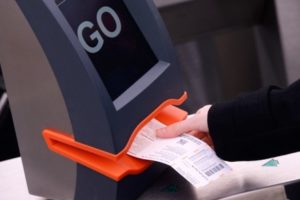 The world's pre­mier met­al­work­ing trade fair will open its doors again in less than two weeks: trade fair vis­i­tors from all over the world will gath­er in Hanover to mar­vel at the lat­est inno­va­tions and trends. Start your trade fair prepa­ra­tion and secure your tick­et now — here is how it works.
Reg­is­tra­tion of tick­ets from exhibitors
You have been invit­ed by an exhibitor of EMO Han­nover to vis­it the exhi­bi­tion? Then acti­vate your tick­et now. Vis­it the tick­et reg­is­tra­tion web­site and enter your pro­fes­sion­al data. You will imme­di­ate­ly receive con­fir­ma­tion that your tick­et has been acti­vat­ed for vis­it­ing the trade fair and can be used by you.
Tick­et shop
Would you like to vis­it the fair inde­pen­dant­ly from an exhibitor? Then vis­it the EMO Han­nover tick­et shop . Be it a day tick­et, a sea­son tick­et or a tick­et order to apply for a visa — here you will find what you are look­ing for.
Relaxed vis­it to the fair with the Club of Metalworking
The Club of Met­al­work­ing does not only offer a free sea­son tick­et, but also attrac­tive ser­vices for vis­it­ing EMO Han­nover, such as free use of pub­lic trans­port for vis­it­ing the fair, easy access, lounge access and use of the cloak­room. Mem­ber­ship is free of charge and is open to all those inter­est­ed in met­al­work­ing, from trainees to man­ag­ing direc­tors. Any­one who reg­is­ters on the club's web­site will imme­di­ate­ly receive a tick­et and a tem­po­rary mem­ber­ship card in the per­son­al down­load area. It can be print­ed out and used as an admis­sion tick­et to EMO Hannover.
Ger­man Trade vis­i­tors who become mem­bers before 01. August 2019 will receive their per­son­al club mem­ber­ship card by post in good time before the start of the fair. Ger­man Trade vis­i­tors who decide to become a mem­ber after the 01 August 2019, can receive their mem­ber­ship card per­son­al­ly at EMO Han­nover. For inter­na­tion­al mem­bers, dead­lines may dif­fer accord­ing to mail deliv­ery time. Those who reg­is­trat­ed until the 01. sep­tem­ber 2019 can pick up their tick­et at the fair in our Club of Met­al­work­ing lounge in hall 25. Inter­na­tion­al mem­bers who reg­is­trat­ed from the 02. sep­tem­ber will get the mem­ber­ship card after de exhi­bi­tion by post.
---