Exploiting new digital possibilities in the recruitment of young talent
Good spe­cial­ists are the back­bone of any com­pa­ny. Employ­ers there­fore have to come up with nov­el ideas to make sure they do not lose these impor­tant assets. But how can employ­ers raise their appeal in the age of dig­i­tal trans­for­ma­tion? How should com­pa­nies recruit junior staff and how can they retain their exist­ing employ­ees? EMO Han­nover 2019 pro­vides answers to these questions.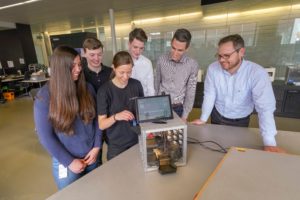 Agile work­ing, IT com­pe­tence and life­long train­ing – today's employ­ees are expect­ed to com­mand a wide range of com­plex skills. In addi­tion, pre­vi­ous forms of col­lab­o­ra­tion are los­ing sig­nif­i­cance due to the new pos­si­bil­i­ties offered by dig­i­tal­i­sa­tion. Com­pa­nies must face up to these changes. One of the pio­neers in this field is Trumpf GmbH + Co KG in Ditzin­gen. The machine tool man­u­fac­tur­er opened its doors to the agile com­mu­ni­ty for the first time at the begin­ning of April. The 1st Agile Days event was devot­ed to solu­tion-ori­ent­ed dis­cus­sions on the cur­rent trends and chal­lenges sur­round­ing agile work­ing. What does that mean in con­crete terms? "Our aim is to strike out and seize the ini­tia­tive. Not only by react­ing to the rapid­ly chang­ing world, but also by active­ly shap­ing it – at the cor­po­rate, team, and per­son­al lev­el," explains the com­pa­ny. And so, inter­est­ed par­ties were invit­ed to Ditzin­gen for two days of talks. The focus was on four main top­ics: Cus­tomers and Inno­va­tion, Roles and Com­pe­ten­cies, Strat­e­gy and Goals as well as Organ­i­sa­tion and Culture.
Dig­i­tal­i­sa­tion also requires changes in the culture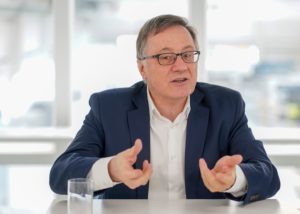 Keep up with dig­i­tal­i­sa­tion, shape it accord­ing to your own needs and abil­i­ties while con­tin­u­ing to use the tried and test­ed – then it can work. Prof. Wil­helm Bauer, Head of the Stuttgart-based Fraun­hofer Insti­tute for Indus­tri­al Engi­neer­ing IAO and Tech­nol­o­gy Offi­cer of the State of Baden-Würt­tem­berg, believes that three steps are need­ed for suc­cess­ful dig­i­tal­i­sa­tion: "Com­pa­nies must first recog­nise that dig­i­tal­i­sa­tion involves sig­nif­i­cant trans­for­ma­tion of the econ­o­my. Sec­ond, they need to devel­op their skills, and third, they need to have the courage to tack­le things head on." One rea­son why dig­i­tal­i­sa­tion has not yet been ade­quate­ly addressed by com­pa­nies is the boom­ing econ­o­my: "When order books are full, many com­pa­nies don't take the time they need to con­sid­er dig­i­tal­i­sa­tion. Yet when busi­ness is going well, that is when the nec­es­sary resources are available."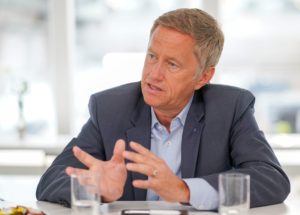 For Oliv­er Maassen, Trumpf's Head of Human Resources, dig­i­tal­i­sa­tion also requires a change in the cul­ture: "The dig­i­tal trans­for­ma­tion demands that you give your­self the free­dom to make mis­takes which you can then learn from," said Maassen. Agile work­ing meth­ods are help­ing to estab­lish this new atti­tude towards work at Trumpf. "The struc­tures must be elas­tic enough to accom­mo­date fresh, cre­ative ideas, such as when new blood comes into the com­pa­ny," Bauer adds. "Top-down and bot­tom-up – if the change is ini­ti­at­ed from both direc­tions simul­ta­ne­ous­ly, then it becomes mutu­al­ly self-rein­forc­ing," Bauer con­tin­ues. But dig­i­tal­i­sa­tion also means chang­ing our under­stand­ing of lead­er­ship. "The main task for 'Boss 4.0' will be on devel­op­ing employ­ees' skills," said Maassen. "At the same time, man­agers should devel­op their own skills and obtain reg­u­lar feed­back. The key to suc­cess is communication."
A future-ori­ent­ed employ­ee reten­tion strat­e­gy begins with training
One thing is cer­tain, though: only well-qual­i­fied employ­ees can guar­an­tee that com­pa­nies devel­op suc­cess­ful­ly, espe­cial­ly in view of the many changes tak­ing place in the world of work. One way to achieve this is to train them your­self. Over the last ten years, the Youth Edu­ca­tion and Devel­op­ment Foun­da­tion has devel­oped into an impor­tant strate­gic part­ner for voca­tion­al train­ing in Ger­many. Strength­en­ing the voca­tion­al ori­en­ta­tion of gen­er­al edu­ca­tion schools, meet­ing the demand for skilled work­ers in the entire mechan­i­cal and plant engi­neer­ing sec­tor and the time­ly trans­fer of new tech­nolo­gies into voca­tion­al train­ing are its main focus­es. Accord­ing­ly, top­ics such as Indus­try 4.0 and mobile learn­ing are also on the Foundation's agen­da. It runs var­i­ous work­shops in which it pro­vides mechan­i­cal engi­neer­ing teach­ers with infor­ma­tion and meth­ods for deal­ing with these future top­ics. One exam­ple is Mobile Learn­ing in Smart Fac­to­ries. This is a mobile app that can be used in dif­fer­ent work and learn­ing envi­ron­ments. It presents con­text-rel­e­vant infor­ma­tion from the Inter­net in an edu­ca­tion­al­ly mean­ing­ful way. The tar­get groups are appren­tices and their train­ers as well as young peo­ple start­ing out on a career in mechan­i­cal engineering.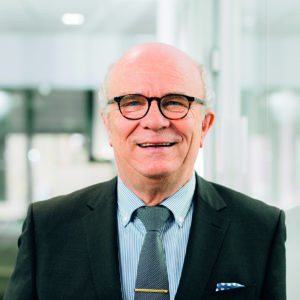 Peter Bole, Head of the Foun­da­tion, con­firms that the ser­vices are grate­ful­ly accept­ed: "Since the Foun­da­tion was estab­lished, more than 7,300 train­ers and teach­ers have been helped over the past ten years to meet future chal­lenges in sem­i­nars last­ing sev­er­al days. The pur­pose is to ensure that the recent tech­no­log­i­cal changes which have tak­en place in mechan­i­cal engi­neer­ing are also includ­ed in the voca­tion­al train­ing. We were also able to con­vince more than 120,000 young peo­ple of the appeal of the indus­try and its oppor­tu­ni­ties in the Spe­cial Youth Show at the last EMO Han­nover and oth­er lead­ing trade fairs." He empha­sis­es that dig­i­tal­i­sa­tion and Indus­try 4.0 are increas­ing­ly becom­ing inte­gral parts of train­ing. "The Youth Edu­ca­tion and Devel­op­ment Foun­da­tion has respond­ed to the chal­lenges of dig­i­tal­i­sa­tion by set­ting up three ground-break­ing projects: test­ing an addi­tion­al qual­i­fi­ca­tion for dig­i­tal man­u­fac­tur­ing process­es on behalf of the Fed­er­al Insti­tute for Voca­tion­al Edu­ca­tion and Train­ing, set­ting up an inno­va­tion and trans­fer net­work in Baden-Würt­tem­berg to imple­ment dig­i­tal­i­sa­tion in voca­tion­al edu­ca­tion and train­ing, and imple­ment­ing a NRW-wide pilot project to imple­ment Indus­try 4.0 and dig­i­tal­i­sa­tion. This involves pro­vid­ing train­ing to 600 train­ers and teach­ers. In a sec­ond step, these addi­tion­al Indus­try 4.0 skills are then passed on to around 1,200 trainees."
Bole, the Head of the Foun­da­tion, rec­om­mends that com­pa­nies use dig­i­tal meth­ods to recruit trainees. "Any­one inter­est­ed in recruit­ing young peo­ple needs to arouse their inter­est. Using mod­ern com­mu­ni­ca­tion oppor­tu­ni­ties such as social media chan­nels is one way of rais­ing your appeal and attract­ing poten­tial recruits. It can be assumed that the degree of dig­i­tal­i­sa­tion found in the work­ing envi­ron­ment will increas­ing­ly become a deci­sive fac­tor for dig­i­tal natives. Com­pa­nies should bear this in mind when devel­op­ing their train­ing, and com­mu­ni­cate it through the chan­nels I already mentioned."
Agile struc­tures require cross-depart­men­tal cooperation
Agile struc­tures require employ­ees from dif­fer­ent areas to work togeth­er on projects. At Trumpf, stu­dents from the Baden-Würt­tem­berg Coop­er­a­tive State Uni­ver­si­ty prac­tise this form of coop­er­a­tion dur­ing their train­ing. In the first year of their appren­tice­ship, they are giv­en the task of devel­op­ing a prod­uct – includ­ing every­thing from mod­el-build­ing and con­struc­tion through to mar­ket­ing. The aim is to teach them how prod­uct devel­op­ment and the mar­ket­ing process work.
The so-called Trumpf Cube which they are devel­op­ing should be 30 cen­time­tres in height, length and width. The even­tu­al func­tion of the prod­uct is left to the stu­dents to decide. They work on the task in teams of five to six, made up of stu­dents from the fields of mecha­tron­ics, elec­tri­cal engi­neer­ing, com­put­er sci­ence, indus­tri­al and mechan­i­cal engi­neer­ing. The project is divid­ed into two phas­es: an ini­tial work­shop, in which each team designs a card­board mod­el of the cube, and then a sec­ond step in which they cre­ate a func­tion­al pro­to­type. Each team receives the same bud­get and can spend it as they see fit. "The stu­dents in the Dig­i­tal Key Box project group, for exam­ple, used their bud­get to buy small motors to dri­ve a grip­per arm. The grip­per arm auto­mat­i­cal­ly ejects the keys from the cube at the push of a but­ton via a 3D-print­ed ramp," says Torsten Klaus, Head of Tech­ni­cal Train­ing at Trumpf in Ditzin­gen, describ­ing a prac­ti­cal example.
Peo­ple still play a key role in the dig­i­tal age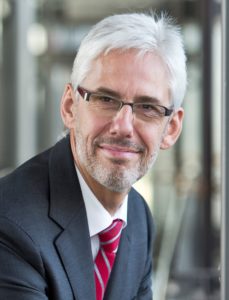 By mid-2018, the WGP (Sci­en­tif­ic Soci­ety for Pro­duc­tion Tech­nol­o­gy) was already con­cern­ing itself with the social con­se­quences of dig­i­tal­i­sa­tion and net­work­ing in Ger­man indus­try. In their Indus­tri­al Work­place 2025 Posi­tion Paper, the authors dis­cussed this devel­op­ment and cre­at­ed a new mod­el for analysing the degree of automa­tion in indus­try. It shows the areas in which there is need for action. "Every indus­tri­al rev­o­lu­tion – includ­ing Indus­try 4.0 – brings immense social upheaval with it," says Prof. Berend Denke­na, Pres­i­dent of the WGP and Head of the Insti­tute of Pro­duc­tion Engi­neer­ing and Machine Tools IFW at the Uni­ver­si­ty of Hanover. "As an alliance of Ger­man pro­fes­sors of pro­duc­tion tech­nol­o­gy, we want to con­tribute our know-how in order to reduce the human dis­tress caused by this upheaval."
The posi­tion paper con­cludes that we still need both: pro­duc­tion tech­nol­o­gy (in the form of auto­mat­ed sys­tems) and peo­ple. The opti­mum ratio needs to be found between human work and auto­mat­ed pro­duc­tion tech­nol­o­gy. Accord­ing to the WGP, the devel­op­ments in dig­i­tal­i­sa­tion and the result­ing changes in the degree of automa­tion and auton­o­my of pro­duc­tion sys­tems are plac­ing new demands on the skills and abil­i­ties of peo­ple work­ing in pro­duc­tion. "In addi­tion to the increas­ing demands on pro­duc­tion employ­ees, the avail­abil­i­ty of suit­ably qual­i­fied employ­ees will also play an impor­tant role in the future," it says. This in turn is influ­enced by demo­graph­ics and the increas­ing het­ero­gene­ity of the qual­i­fi­ca­tions required for enter­ing training.
Oliv­er Maassen from Trumpf and WGP under­line that this is an issue which soci­ety as a whole needs to address: "We need greater polit­i­cal sup­port in the areas of edu­ca­tion and train­ing. Dig­i­tal­i­sa­tion must become a fun­da­men­tal com­po­nent at all lev­els of edu­ca­tion, from pri­ma­ry to ter­tiary." Trumpf, the WGP and the Youth Edu­ca­tion and Devel­op­ment Foun­da­tion will also be show­cas­ing Indus­try 4.0 solu­tions in Sep­tem­ber at EMO Hannover.
Author: Annedore Bose-Munde, spe­cial­ist jour­nal­ist from Erfurt
Size: around 10,400 char­ac­ters includ­ing blanks
Back­ground
Employ­ee train­ing and recruit­ment for the smart fac­to­ry are also a key focus at EMO Han­nover. The Spe­cial Youth Show is a tra­di­tion­al part of the trade fairs run by EMO organ­is­er VDW (Ger­man Machine Tool Builders' Asso­ci­a­tion). Through­out the fair, it will pro­vide infor­ma­tion in Hall 25 about met­al­work­ing occu­pa­tions, career require­ments, train­ing pro­grammes and career oppor­tu­ni­ties in the machine tool indus­try. Around 7,000 young peo­ple plus train­ers and teach­ers from tech­ni­cal sec­ondary schools, tech­ni­cal col­leges and voca­tion­al schools have been invit­ed to attend. At the VDI Recruit­ment Day organ­ised by VDI-Nachricht­en in Pavil­ion 11 on 17 and 18 Sep­tem­ber 2019, poten­tial employ­ers will have the oppor­tu­ni­ty to present their com­pa­nies to young people.
---