Global machine tool community paving the way for Industry 4.0
Exten­sive inter­na­tion­al involve­ment in VDW's umati pre­sen­ta­tion at EMO Han­nover 2019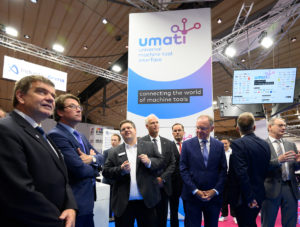 70 com­pa­nies from ten coun­tries have con­nect­ed 110 machines and 28 val­ue-added ser­vices at EMO Han­nover 2019 via the umati stan­dard inter­face. "umati is open­ing up a new chap­ter in pro­duc­tion," says Dr. Heinz-Jür­gen Prokop, Chair­man of the VDW (Vere­in Deutsch­er Werkzeug­maschi­nen­her­steller – Ger­man Machine Tool Builders' Asso­ci­a­tion), at the umati press con­fer­ence on 16 Sep­tem­ber 2019 in Hanover. "The inter­face enables machine tool man­u­fac­tur­ers to ful­fill anoth­er Indus­try 4.0 promise: the sim­ple, fast and secure exchange of data," con­tin­ues Prokop. Cre­at­ing a con­nec­tion and pro­vid­ing a uni­form lan­guage for machines, sys­tems and soft­ware are essen­tial pre­req­ui­sites for reap­ing the ben­e­fits of dig­i­tal­i­sa­tion in pro­duc­tion. The fact that indi­vid­ual com­pa­nies no longer have to con­cern them­selves with the cor­rect func­tion­ing of the net­work inter­con­nec­tion rep­re­sents a tremen­dous step forward.
Inter­na­tion­al acceptance
umati has also already made a strong impres­sion inter­na­tion­al­ly. Three inter­na­tion­al con­sor­tia from major machine tool man­u­fac­tur­ing coun­tries have joined the inter­face: Prod­Net from Switzer­land, Edge­cross from Japan and NCLink from Chi­na. In addi­tion, the machine tool asso­ci­a­tions from Chi­na, the Unit­ed King­dom, Italy, the Nether­lands, Aus­tria, Switzer­land, Spain and Tai­wan as well as the Euro­pean machine tool asso­ci­a­tion Cec­i­mo are sup­port­ing the project.
"Choos­ing the OPC UA stan­dard as a basis for the devel­op­ment of the inter­face sup­ports inter­na­tion­al dis­sem­i­na­tion. It ensures that umati can be used free of charge world­wide," explains Prokop. 90 com­pa­nies are con­tribut­ing to the stan­dard­iza­tion work in the Joint Work­ing Group togeth­er with the OPC Foun­da­tion. The release of Ver­sion 1.0 of the Com­pan­ion Spec­i­fi­ca­tion, the next mile­stone, is planned for the mid­dle of next year.
EMO show­case demon­strat­ing the effec­tive­ness of umati
The show­case at EMO Han­nover 2019 demon­strates that the inter­face is already up and run­ning. Each machine has an OPC UA serv­er which sends the data to a data hub which has been set up espe­cial­ly for the trade fair. There, the soft­ware val­ue-added ser­vices can access the data via OPC UA clients and show what added val­ue can be gen­er­at­ed from the result­ing data. How the data is com­ing togeth­er can be expe­ri­enced via a live dash­board at the umati cen­tral infor­ma­tion booth (E24) in Hall 9.
umati suc­cess will be decid­ed by the market
Whether or not umati is suc­cess­ful will ulti­mate­ly depend on how cus­tomers rate the added val­ue of the inter­face. For their part, man­u­fac­tur­ers must pro­vide this added val­ue in a depend­able man­ner. "For this we need reli­able part­ners who can pro­vide the nec­es­sary com­po­nents such as con­trol archi­tec­ture and soft­ware com­po­nents. We will achieve this through close coop­er­a­tion with the con­trol man­u­fac­tur­ers and, in future, no doubt also with exten­sive parts of the sup­ply chain," says VDW Chair­man Prokop.
But until then, the umati work­ing group still has much to do. Ver­sion 1.0 will be the start­ing sig­nal for launch­ing actu­al prod­ucts. "In the future, the umati brand should rep­re­sent a promise: any­one who buys a umati machine and has umati inter­face soft­ware should be able to get the data flow­ing with no dif­fi­cul­ty," says Prokop.
In order to achieve sim­i­lar­ly exten­sive dis­tri­b­u­tion to that of the USB con­nec­tor in the con­sumer goods sec­tor, the VDW is work­ing – in addi­tion to the Com­pan­ion Spec­i­fi­ca­tions – on estab­lish­ing a bind­ing spec­i­fi­ca­tion for the con­fig­u­ra­tion of com­mu­ni­ca­tion para­me­ters, defin­ing min­i­mum require­ments for imple­men­ta­tion, and devel­op­ing stan­dard­ised test pro­ce­dures to assess per­for­mance. Fur­ther aims include extend­ing the brand's glob­al reach, defin­ing bind­ing con­di­tions for its use and set­ting up a viable organ­i­sa­tion­al struc­ture. "Ver­sion 2.0 is already on the hori­zon because there are many aspects which have not yet been tack­led, such as pro­duc­tion order man­age­ment on the machines, or tool man­age­ment," con­cludes the VDW Chairman.
---