Reducing
CO2

levels with artificial intelligence

45 start-ups show­cas­ing their strength at EMO Hannover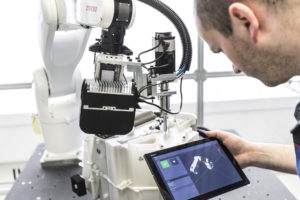 Frank­furt am Main, 10 Sep­tem­ber 2019. – Start-ups are in great demand at EMO Han­nover 2019. The world's lead­ing trade fair for met­al­work­ing has fur­ther increased its com­mit­ment to young com­pa­nies by spot­light­ing the sec­tor as a light­house project. Eight com­pa­nies have already reg­is­tered for the joint "Junge inno­v­a­tive Unternehmen" (Young Inno­v­a­tive Com­pa­nies) stand (A30, Hall 9), which is spon­sored by the Ger­man Fed­er­al Min­istry for Eco­nom­ic Affairs and Ener­gy (BMWi) and enables Ger­man start-ups to gain trade fair expe­ri­ence at min­i­mum effort or cost. A fur­ther 37 young entre­pre­neurs will be pre­sent­ing their inno­va­tions in the Young Tech Enter­pris­es and VDMA Start­up Machine areas (also on Stand A30 in Hall 9). The list of nom­i­nees for the BMWi Dig­i­tal Inno­va­tions com­pe­ti­tion for start-ups has now been issued, and there is now great excite­ment sur­round­ing the awards ceremony.
"Com­pa­nies are like ships," says Sascha Schu­bert, who is the founder of three com­pa­nies and is con­tribut­ing to the Young Tech Enter­pris­es show at EMO Han­nover in his capac­i­ty as vice chair­man of the Ger­man Star­tups Asso­ci­a­tion. "The big­ger they are, the more rigid­ly they hold to their course. But if they do decide to change tack, their size becomes a dis­ad­van­tage. Young com­pa­nies with less well-estab­lished rou­tines are more flex­i­ble and dynam­ic in this case." Start-ups chal­lenge the com­pe­ti­tion with their fresh think­ing and force estab­lished play­ers out of their com­fort zone. Yet at the same time, coop­er­a­tion can help both the start-ups as well as the tra­di­tion­al man­u­fac­tur­ers improve their posi­tion in the glob­al com­pe­ti­tion. "If estab­lished com­pa­nies and start-ups do col­lab­o­rate – or, to remain with the ship­ping imagery, if a super­tanker can enlist the ser­vices of a fast-mov­ing ten­der – they can ben­e­fit each oth­er mutu­al­ly," says Schubert.
Start-ups and estab­lished man­u­fac­tur­ers join­ing forces
This is the pre­cise aim of the Start-up Area at EMO Han­nover. It includes the BMWi joint stand, the Young Tech Enter­pris­es and the VDMA Start­up Machine, which enables young mechan­i­cal engi­neer­ing com­pa­nies to take part in trade fairs at short notice. "This gives exhibitors and vis­i­tors direct access to numer­ous cre­ative, young com­pa­nies. The start-ups, for their part, gain direct access to more than 2,000 poten­tial part­ners," explains Dr. Wil­fried Schäfer, Exec­u­tive Direc­tor of the VDW (Vere­in Deutsch­er Werkzeug­maschi­nen­fab­riken – Ger­man Machine Tool Builders' Asso­ci­a­tion) and organ­is­er of EMO Han­nover. "This makes EMO Han­nover the ide­al plat­form for indus­tri­al start-ups seek­ing to net­work with estab­lished com­pa­nies. The fair pro­vides exhi­bi­tion space, a forum, match­mak­ing events and pitch­es for start-ups and thus enables direct com­mu­ni­ca­tion between founders, investors, part­ners and spon­sors," Schäfer continues.
Rapid pro­gram­ming of robots
drag and bot GmbH from Stuttgart is a start-up com­pa­ny that has decid­ed to par­tic­i­pate in the Young Tech Enter­pris­es pro­gramme on the basis of its pos­i­tive expe­ri­ence at trade fairs. Spun-off in 2017 from the Fraun­hofer Insti­tute for Man­u­fac­tur­ing Engi­neer­ing and Automa­tion IPA, its 15 employ­ees are cur­rent­ly work­ing on soft­ware designed to enable sim­ple and man­u­fac­tur­er-inde­pen­dent pro­gram­ming of indus­tri­al robots. The young team behind the software's intu­itive, smart­phone app-like user inter­face is enabling medi­um-sized com­pa­nies to ven­ture into robot-based automa­tion. Poten­tial appli­ca­tions here include repet­i­tive and less chal­leng­ing tasks such as load­ing and unload­ing machines, or sim­ple yet tedious han­dling tasks. Such appli­ca­tions quick­ly pay for them­selves. The use of a robot relieves the strain on employ­ees who can then be deployed in more chal­leng­ing task areas. The devel­op­ment of in-house exper­tise in the field of robot­ics not only gives pro­duc­tion flex­i­bil­i­ty to medi­um-sized com­pa­nies, it also enables them to react dynam­i­cal­ly to change and reduce their depen­dence on exter­nal ser­vice providers. It can even make it cost-effec­tive to auto­mate process­es involv­ing small quan­ti­ties and high num­bers of variants.
"From talk­ing to cus­tomers we know that the load­ing and unload­ing of machines are impor­tant engi­neer­ing appli­ca­tions. We've had many such enquiries from the met­als indus­try," says Jonathan Sauter, in charge of Busi­ness Devel­op­ment and Sales at drag and bot. "And so we came to realise a while ago that it would be good for us to come to EMO Han­nover." The deci­sion was made eas­i­er by the pack­age offered by Young Tech Enter­pris­es, which Sauter had got to know at the Han­nover Messe: "We've been exhibit­ing in Hanover for three years, and in 2018 we took part in the Young Tech Enter­pris­es area. The stands have a cool design and there are so many new devel­op­ments fea­tured there. This, in turn, has a pos­i­tive effect on media cov­er­age and vis­i­tor aware­ness lev­els. Over­all, it's a great for­mat for us."
Joint stand helps in trade fair planning
Gero­tor GmbH from Puch­heim near Munich was encour­aged for sim­i­lar rea­sons to par­tic­i­pate in the joint Junge inno­v­a­tive Unternehmen stand, which is spe­cial­ly tai­lored to meet the needs of Ger­man start-ups. "We exhib­it­ed at EMO Han­nover in 2017 and were more than sat­is­fied with the out­come. We even won the spe­cial prize for ener­gy effi­cien­cy in the machine mar­ket," explains Mar­cel Wern­er, co-founder of Gero­tor and now respon­si­ble for Busi­ness Devel­op­ment. Wern­er sees the trade fair as unmiss­able, giv­en the spe­cial dynam­ics in the field of machine tools and Gerotor's tar­get mar­ket of machine and plant con­struc­tion. "EMO Han­nover is the world's lead­ing trade fair and as such is cru­cial for us." How­ev­er, it would cost far too much time and effort for the small team to have its own stand at the trade fair, which is why Gero­tor decid­ed to take part in a joint stand this time, says Wern­er. "We get a great stand, but there is less work involved and we have less to wor­ry about. That's a major fac­tor for start-ups."
Sav­ing ener­gy and "clean­ing" power
On the tech­ni­cal side, things are cur­rent­ly going well for the young entre­pre­neurs, who will be pre­sent­ing a high­ly top­i­cal aspect at EMO Han­nover: reduc­ing CO2 lev­els in the pro­duc­tion process. Wern­er: "We found­ed Gero­tor in 2015. We were four sea­soned busi­ness part­ners, each with ten to 15 years of man­age­ment expe­ri­ence in the inter­na­tion­al auto­mo­tive and sup­pli­er busi­ness. Togeth­er we came up with the idea of trans­fer­ring the Kers brake ener­gy recov­ery tech­nol­o­gy used in For­mu­la 1 to indus­tri­al pro­duc­tion." Instead of con­vert­ing elec­tri­cal ener­gy into heat, or feed­ing it uneco­nom­i­cal­ly back into the pow­er grid, an inno­v­a­tive fly­wheel stor­age sys­tem now holds the ener­gy in the DC inter­me­di­ate cir­cuit of the machine and thus makes it usable. Pow­er con­sump­tion can be reduced by up to 60 per cent, and the CO2 pro­duc­tion foot­print sig­nif­i­cant­ly improved.
How­ev­er, the goal of the com­pa­ny, which now has 20 employ­ees, is not only to help improve ener­gy effi­cien­cy, but also to kill sev­er­al birds with one stone. Medi­um-sized com­pa­nies work­ing close to their con­nect­ed load lim­it can use the improved peak load man­age­ment to expand their machine park. Pow­er fail­ures in pro­duc­tion are bridged by the fly­wheel ener­gy stor­age sys­tem which, with its stor­age time of up to 15 sec­onds, can bridge typ­i­cal episodes of mains flick­er. It can also help pro­duce high­er-qual­i­ty cur­rent by cush­ion­ing har­mon­ics and reac­tive pow­er and smooth­ing the sine wave of the cur­rent: "Cleaned elec­tric­i­ty is a 'waste' prod­uct of our stor­age sys­tem, but one which also ben­e­fits users. We can achieve all this with a pure­ly mechan­i­cal sys­tem which uses no chem­i­cals. Its man­u­fac­ture and pro­vi­sion are also green­er than those of many oth­er tech­nolo­gies." This means that cus­tomers can quick­ly see a return on their invest­ment, promis­es Wern­er: "Machine man­u­fac­tur­ers who incor­po­rate our load man­age­ment and recu­per­a­tion sys­tem from the out­set can save on their own periph­er­als. A new machine with down­sized periph­er­al com­po­nents pays for itself even quick­er; sim­ply adding on a stor­age sys­tem as an option­al pack­age would pay for itself in rough­ly three years."
The start-up com­pa­ny is cur­rent­ly con­duct­ing research and devel­op­ment work on the use of arti­fi­cial intel­li­gence togeth­er with the Uni­ver­si­ty of Stuttgart, Fraun­hofer IPA and tri­al part­ners in indus­try. The aim is to use pow­er pro­files to iden­ti­fy opti­mum machine out­put lev­els in order to ensure max­i­mum ener­gy effi­cien­cy even with­out exter­nal con­trol com­mands. Dif­fer­ences in the pow­er pro­files of iden­ti­cal machines with the same pro­duc­tion pro­gramme could then yield infor­ma­tion on main­te­nance require­ments, for exam­ple. "This is anoth­er rea­son why we are look­ing for­ward to EMO Han­nover. By spot­light­ing OPC UA and umati, the event is focussing on two excit­ing ini­tia­tives for machine data eval­u­a­tion," says Werner.
An excit­ing plat­form for start-ups
Every­one is unan­i­mous that EMO Han­nover will once again be an excit­ing plat­form for start-ups this year. Schäfer: "The trade fair meets the needs of com­pa­ny founders on var­i­ous lev­els – with the joint BMWi stand, Young Tech Enter­pris­es and the VDMA Start­up Machine. At rel­a­tive­ly lit­tle cost and effort, young teams can gain expe­ri­ence in tak­ing part in a trade fair, move towards pro­fes­sion­al­is­ing their com­pa­ny and meet exhibitors from all over the world." Sauter has made great promis­es for the drag and bot stand, and is also full of antic­i­pa­tion: "We're bring­ing our coolest demon­stra­tor ever to the fair!"
List of nom­i­nees for the BMWi Founder Com­pe­ti­tion Dig­i­tal Innovation
There is great antic­i­pa­tion ahead of the award cer­e­mo­ny of the Dig­i­tal Inno­va­tions start-up com­pe­ti­tion which is being held for the first time at EMO Han­nover – from 17:00 on 17 Sep­tem­ber. 252 start-up ideas had been sub­mit­ted by 31 March 2019. These ranged from data analy­sis for M&A investors and an auto­mat­i­cal­ly con­trolled indoor green­house through to dig­i­tal inno­va­tions in the health­care sec­tor. Up to six ideas will receive main prizes of 32,000 euros each from a jury of experts, and up to 15 oth­ers will win fur­ther cash prizes of 7,000 euros each. In addi­tion to the reg­u­lar com­pe­ti­tion, a spe­cial prize for Dig­i­tal Inno­va­tions In Pro­duc­tion is being award­ed for the first time at EMO Han­nover, with prize mon­ey of 10,000 euros. The fol­low­ing new busi­ness ideas have been nom­i­nat­ed by the jury:
Aig­o­ra (data-pro­tect­ed train­ing data sets for AI-based med­ical appli­ca­tions); Aug­ment­ed Robot­ics (smart­phone con­trol of com­mer­cial­ly avail­able toys for play­ing inter­ac­tive aug­ment­ed real­i­ty games); plus10® — Dar­win (self-learn­ing cycle time opti­mi­sa­tion for auto­mat­ed pro­duc­tion sys­tems); edon – elec­tron­ic dona­tions (dona­tion plug-in for pay­ment sys­tems in online shops and tool for char­i­ty live streams); Ener­gy Robot­ics (soft­ware for autonomous mobile robots for remote inspec­tion of infra­struc­tures in the oil and gas indus­try); etalyt­ics (AI-based ener­gy man­age­ment for indus­tri­al com­pa­nies: Mon­i­tor­ing, mod­el­ling, sim­u­la­tion, fore­cast­ing and opti­mi­sa­tion); GAIA Indoor Gar­den­ing (auto­mat­i­cal­ly con­trolled indoor green­house for veg­etable cul­ti­va­tion); HEA2R (audio-based assis­tance sys­tem for noisy indus­tri­al areas); HEDERA (dig­i­tal solu­tions for sus­tain­abil­i­ty assess­ment and sup­port for sus­tain­able devel­op­ment financ­ing); Merg­erSpot (data analy­sis for SMEs: pro­vi­sion of quan­ti­ta­tive and qual­i­ta­tive infor­ma­tion at mar­ket and com­pa­ny lev­el); Mind­able Health (ther­a­peu­tic app for peo­ple with anx­i­ety dis­or­ders); OCELL (forestry aer­i­al pho­tog­ra­phy by pri­vate pilots using mul­ti­spec­tral sen­sors and auto­mat­ed data analy­sis); outsmart.ai (self-learn­ing automa­tion of repet­i­tive busi­ness process­es); Pat­ta­ri­na (app to trans­fer pat­terns direct­ly from a mobile phone to fab­rics); Per­A­Graft (cus­tomised blood ves­sel pros­the­ses for patients with aor­tic aneurysm (bulging of the aor­ta)); Qbound (access man­age­ment for appli­ca­tions, cloud ser­vices and IoT devices): secure access based on soft­ware-defined perime­ter and blockchain tech­nol­o­gy); SAM (Self-learn­ing Assis­tance sys­tems for Machine oper­a­tors – com­bin­ing human expe­ri­ence with machine learn­ing); sentin (auto­mat­ic detec­tion of faults in visu­al and image-based inspec­tion pro­ce­dures based on AI tech­nolo­gies); Sooqua (soft­ware for pre­dic­tive main­te­nance of water net­works and indus­tri­al pipelines); Spray­Pat­ter­na­tor (mea­sur­ing device for deter­min­ing the liq­uid dis­tri­b­u­tion of noz­zle sprays on tool and com­po­nent sur­faces); StudyS­marter (intel­li­gent learn­ing plat­form with auto­mat­i­cal­ly cre­at­ed learn­ing struc­ture includ­ing mind maps and learn­ing plans).
Author: Dr. Ste­fan Schwa­neck, VDW
Size: around 12,683 char­ac­ters includ­ing blanks
---